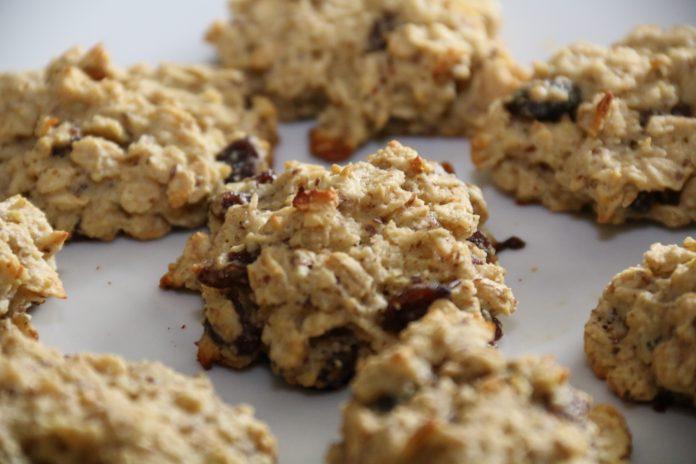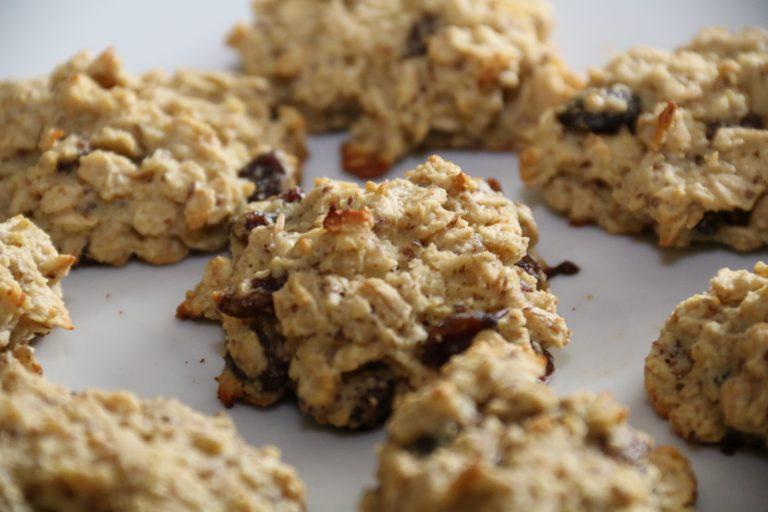 A Delicious Oatmeal Raisin Lactation Cookie with No Added Sugar
When I was pregnant, I was very open to breastfeeding and also bottle feeding. In my mind, I didn't have a preference. I was bottle-fed as a baby and thought I turned out ok. At this time, lactation cookies weren't even on my radar.
Breastfeeding
Then I started reading about all the recommendations on why you should breastfeed and I became obsessed with finding ways to make enough milk for my twins. I was going to figure out all the ways I could make more milk to breastfeed my twins. Luckily, I was up all night breastfeeding so I had a lot of time to search the internet for recommendations.
And, I stumbled upon lactation cookies. I did a lot of pumping so I can say without a doubt that lactation cookies work! For a long time, I was buying these lactation cookie mixes from amazon. The lactation cookies were delicious but got very costly for how many I was eating a day.
Healthier Lactation Cookies
I gobbled them up! I also managed to put on more weight from my time breastfeeding more than I ever did while pregnant. Eventually, my goal was to lose weight so I could fit into my pregnancy jeans. I blamed the lack of sleep, immobility, nursing 24-hours a day, and my insatiable appetite for lactation cookies.
Plus, what you eat your baby eats, so it's not a good idea to get your child hooked on a sweet too. Watch our video to learn more!
I have been on a big nutritional kick lately and I spent a lot of time looking into alternative flours. These alternative flours are made of almonds, butternut squash, pumpkin, garbanzo beans, you name it!
You just use these alternative flours when it calls for all-purpose flour. I love cooking with butternut squash flour because I just got a serving of vegetables instead of using all-purpose flour, which is a nutrient-poor, fiber-free starch.
The recipe tastes a little different, but the health benefits outweigh the taste difference. For this recipe, I like to use almond meal.
For More Info On Pregnancy Foods, Check Out: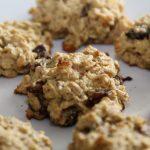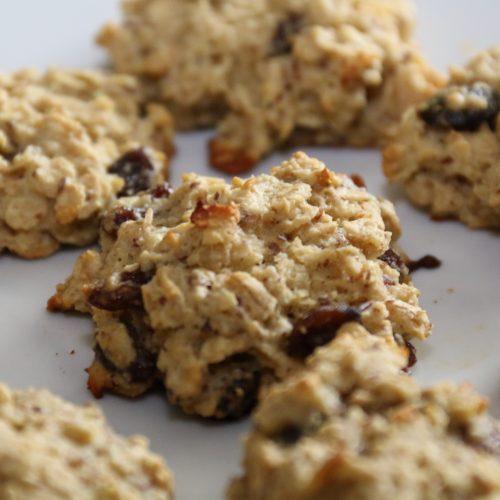 No Sugar Added Lactation Cookies
These lactation cookies are nutritious and help moms make more milk. Just a little brewer's yeast goes a long way.
Ingredients
2

cups

old-fashioned oatmeal

2

bananas

2

eggs

beaten

1/4

cup

coconut oil

3

tbsp

Brewers Yeast

1/2

cup

crushed walnuts, almonds, or your favorite nut

1

tsp

salt

1

tsp

baking powder

1/2

tsp

baking soda

1

cup

raisins (you can use more or less)

3

tbsp

ground fenugreek

1

tsp

pumpkin pie spice (1 tsp cinnamon, 1/2 tsp nutmeg, 1/4 tsp ground clove, 1/4 tsp allspice)
Instructions
In a large bowl, mix all of your dry ingredients together: oats, brewer's yeast, salt, baking powder, baking soda, ground fenugreek and pumpkin pie spice.

Puree the banana using a hand mixer or a fork. Add the eggs and coconut oil and give it a good mix.

Add your wet ingredients to the dry and mix well. Then, add in your oats and gently mix by hand so you don't break them. You can use a mixer but it loses its oatmeal cookie texture.

Add raisins, almonds, walnuts, or whatever nut/seed of your choosing. These are for extra nutritional value.

Drop 2 tablespoons (or use a cookie scoop) onto a prepared cookie sheet, 2 inches apart. I use parchment paper so I don't have to grease a pan. Press the cookie dough down just a bit.

Bake for 15-20 minutes, depending on your cookie size. Cook them on a rack before eating. Enjoy!
Recipe Notes
This will make about 12-14 cookies, but you can make smaller cookies by cutting the tablespoon 1/2 or make extra large cookies by adding a tablespoon.