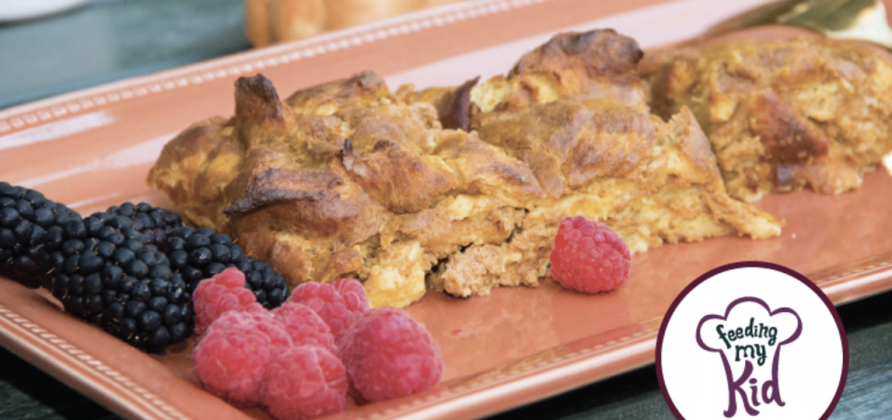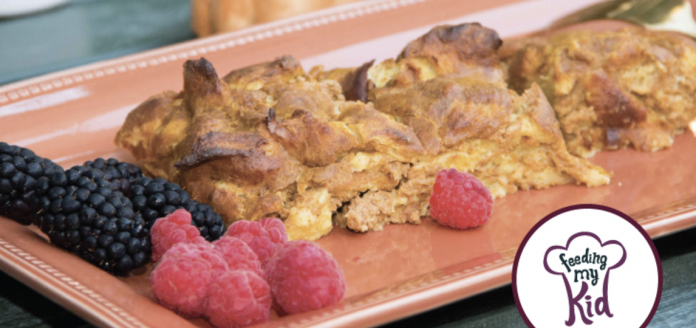 A Healthier Pumpkin Challah French Toast Casserole
What a super easy Pumpkin Challah French Toast Casserole recipe. And, what makes it even better is that this recipe has no sugar added.
This French toast casserole recipe is loaded with the health benefits of pumpkin and all the cinnamon goodness of Fall. I am always doing recipe development with the goal of reducing or eliminating added sugar in recipes.
When I first wanted to make a pumpkin challah french toast casserole recipe, I was a bit horrified by how much sugar was added to all the recipes. Challah is already sweet. I couldn't image why we needed to make it sweeter.
Find out how much sugar kids are having in a day.
Here are more tips on how to reduce how much sugar your kids are eating.
Making A French Toast Casserole Saves Time!
Why not make a french toast casserole instead of cooking each slice individually? It takes longer in the oven to bake, but it's passive time you can better spend with your family.
My twins begged me to make this again. It's still a treat for breakfast, but at least I'll feel better about serving it.
Benefits of Cinnamon
Cinnamon is an appetite suppressant and can be used to help overcome sugar cravings, plus it sweetens a dish without the need for added sugar.  I try to add cinnamon to virtually all of my breakfasts! Cinnamon can help to lower your blood sugar levels and reduce heart risk factors for heart disease. Plus, it has anti-inflammatory benefits along with vitamins and minerals.
Benefits of Pumpkin
A cup of pumpkin contains 200% of your daily intake of Vitamin A, which can help with your vision according to the National Institute of Health.
Pumpkins are rich in beta-carotene, protects your skin, can improve your immunity and helps with weight loss.  Learn more about the health benefits of pumpkins.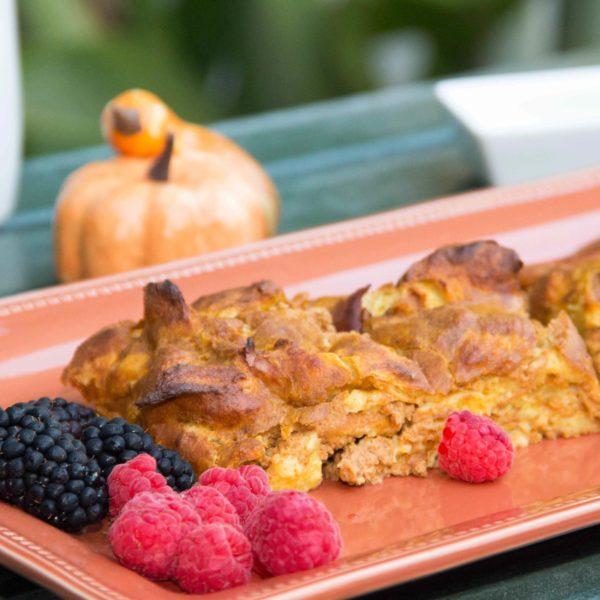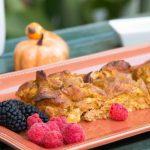 Pumpkin Challah French Toast (No Sugar Added)
This is a delicious French Toast Casserole recipe and there is no need to add sugar. This is still a deliciously indulgent French toast recipe.
Ingredients
1

challah loaf

We use left overs from dinner so sometimes we only have a half left

8-12

oz

plain pumpkin puree

5

Eggs

1

cup

Milk

1/2

cup

Heavy Cream

1

tsp

pumpkin pie spice

1

tsp

vanilla

1/2

tsp

cinnamon
Instructions
Pre-heat the over to 350 degrees

Grease a 13 x 9 casserole dish (most casserole dishes will work)

Tear the challah into small pieces. They can be 1 - 1 1/2 inch in size and add them to the casserole dish.

In a medium size bowl, add all the ingredients together and mix vigerously. You want everything to be well mixed.

Pour the mixture over the challah and mix everything well.
Recipe Notes
If you're using an entire challah, you may want to add another egg or two. How my family loves challah, I've never had an entire challah to use. 🙂 They gobble it up before I can tear it up for the French toast casserole or the night before.