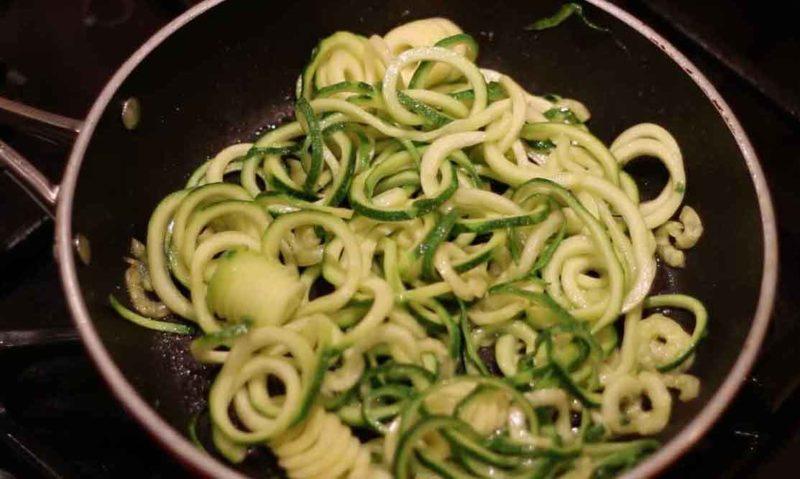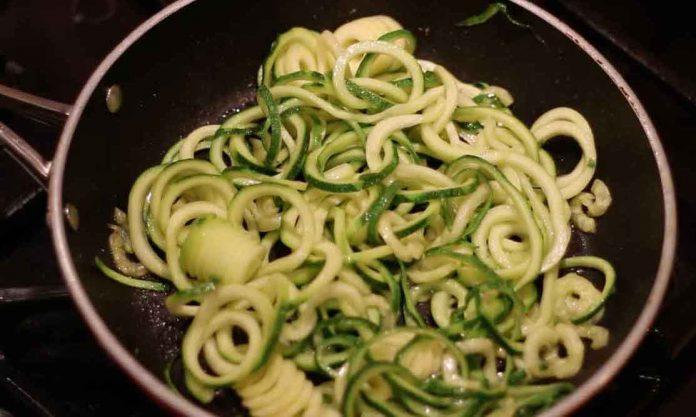 Zucchini noodles are the perfect substitute for pasta. When you're feeling like you don't want to have a heavy pasta dish, you can use zucchini noodles instead!
Zucchini Noodles are Easy and Healthier
Pasta is super easy to overeat! Since it's such a nutrient lacking product, you don't really feel full until you've eaten way too much. Pasta is filled with starchy carbs that don't really have a lot of nutrients. While pasta is great every once in a while, it's probably a good idea not to eat it often.
These zucchini noodles are great because you can eat a ton without overeating. They don't make you feel bloated or overstuffed with food.
Use your spiralizer or Veggetti to make these noodles. Top them off with your favorite sauce or this homemade pasta sauce. Plus, zucchini is naturally gluten-free. Win!
Give these zucchini noodles a try!
More Recipes with Zucchini: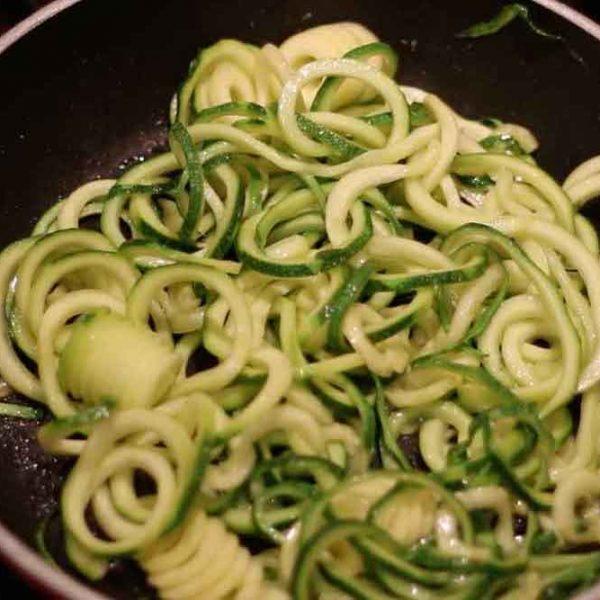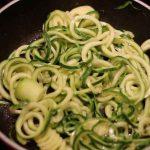 Spiralized Zucchini Noodles
These spiralized zucchini noodles are super simple! These are the perfect substitute for any pasta. You won't even miss pasta once you've tried this!
Ingredients
1-2

zucchinis

1

tbsp

olive oil

or coconut oik

salt and pepper to taste
Instructions
Trim ends from zucchini, and cut in half, so you have more manageable pieces.

You can Spiralizer or a Veggetti to make the noodles.

Using the attachment with the desired thickness, run your zucchini through a spiralizer to create noodles.

Just before serving, heat a pan on your stove to medium heat. Add a little bit of high quality olive oil, coconut oil, or your favorite cooking fat. Toss zucchini in the pan, and cook for 30-60 seconds, or until noodles are just slightly wilted, but still hold their shape. Do not overcook, or you won't be able to twirl the noodles like spaghetti.

Serve with your favorite sauce or topping for noodles.
Recipe Notes
Thin zucchini noodles can be served raw. The heat from your sauce or topping will be enough to wilt your noodles.
These can be stored in an airtight container in the refrigerator or freezer, until ready to eat.