Sam X Renick, Social Entrepreneur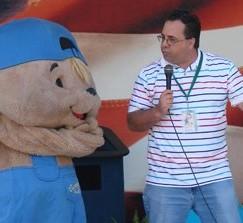 Sam X Renick is a source and force of knowledge and joy on great money and reading habits. He is a former aerospace manager and financial consultant turned award winning social entrepreneur. In 2001, he founded the "It's a Habit!" Company and co-created children's storybook character Sammy Rabbit to make it easy for anyone to talk to and teach children about great money habits early! Sam has written and produced one of the largest libraries in the world of financial literacy, songs and stories. What makes it astonishing is he can not sing on key or clap on beat.
His exemplary work in 8 countries with over a quarter million children has resulted in multiple honors, including the New Jersey Coalition for Financial Education Muriel F. Siebert Lifetime Achievement Award. His efforts have been chronicled by a variety of media outlets including NPR, MSN, the Armed Forces Network, etc. Kiplinger editor, Janet Bodnar wrote this about the visionary innovator:
"Anyone who has ever had a hard time trying to persuade a group of 7 year old children that saving money is fun, should invite Sam Renick for dinner. Renick can whip a gym full of elementary school kids into a frenzy of enthusiasm for saving money minutes after bounding into the room."
For Renick, the mission is personal. That makes an enormous difference. His passion & enthusiasm are contagious! Talk with him and you get it He's an evergreen & ever-giving source of education and empowerment.
You can connect with Sam on:
 Sam's Articles: