Print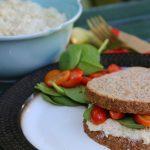 Healthy Protein Packed Tuna with Cottage Cheese, Yogurt and Lemon (Mayo Free)
This is a must try tuna recipe! It's super easy, flavorful and is jam packed with extra protein and nutrition. And, so easy to make!
In a large bowl, add the tuna and break it up with a fork into smaller pieces

Zest lemon and add it to the bowl

Juice one lemon and then

Dice up onion and celery

Mix everything together and chill in refrigerator for 30 minutes (this is optional)

Serve.