Print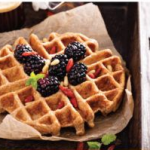 Delicious Buttermilk High Fiber Whole Wheat Waffles
These waffles are a wonderful way to start the morning! They are loaded with healthy insoluble and soluble fiber, they are filling, and delicious.
1

cup

whole wheat flour

1

cup

Buttermilk

I used a powder mix and added water

3

Eggs

1

Banana

1/4 to 1/2

cup

frozen or fresh blueberries

1/4

cup

Ground flaxseed

1/4

cup

Tiger Nut Flour

You can use all flaxseed or more whole wheat flour

4

TBSP

olive oil

1

TSP

Baking power
I used an immersion blender to mix my buttermilk powder and water. If you have fresh buttermilk you can skip this step.

I added the blueberries and banana to the buttermilk and blended.

Next, I added the eggs and mixed for a few seconds.

In a separate bowl, I added the whole wheat flour, flaxseed, baking powder, tiger nut flour and mixed together.

Add the wet ingredients and dry ingredients together and mix until well combined.

Heat up your waffle maker and let the batter sit for about 5 minutes to thicken up before pouring into your waffle maker.

Pour about 3/4 of a cup into your waffle maker. This recipe makes 3 waffles.
This recipe makes three waffles. You can double it to make more waffles. Make it even more nutritious by adding hemp seeds, Brewers yeast or another healthy add in.