Print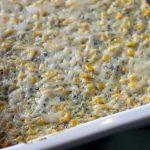 Creamy Corn Casserole
Looking for an awesome side dish? This corn casserole recipe is a must try. We've added chia seeds, nutritional yeast and flax seeds to this recipe to make it a high fiber side dish with loads of flavor.
1/2

Cup

Milk

Divided

1/2

Cup

Heavy Cream

2

Tablespoons

unsalted butter

2

Tablespoons

almond meal

2

Tablespoons

Nutritional Yeast

2

Tablespoons

flaxseed

2

Tablespoons

Chia Seeds

1

Teaspoon

salt

4-5

Cups

corn

Fresh or frozen

2

Eggs

1/4

Cup

Shredded Asiago

or Fresh Parmesan
Pre-heat oven to 400 degrees

Lightly oil 8 inch square plan

In a medium pot, add the cream, 1/4 cup of milk (only half of the milk), add heavy cream, salt and butter.

Take the 2 TBSP of chia seeds and add 5 oz of water. Let them soak for 5-15 minutes to turn into a pudding.

In a separate dish, whisk the eggs together until well beaten.

In a separate dish, add the flour and remaining 1/4 cup of milk. Mix until well combined.

When the milk in the pot comes to a boil, add the almond meal and milk you just mixed to it and wish all together gently for about 30 seconds or so.

Once combined, remove from heat and add the corn, Chia seeds, nutritional yeast, and flax seeds and mix together.

Slowly add the eggs in while mixing everything together. Don't let the eggs curdle.

Pour everything in your pre-greased dish and put in the oven for 30 minutes at 400 degrees.

Let the dish cool so it can firm up before serving.