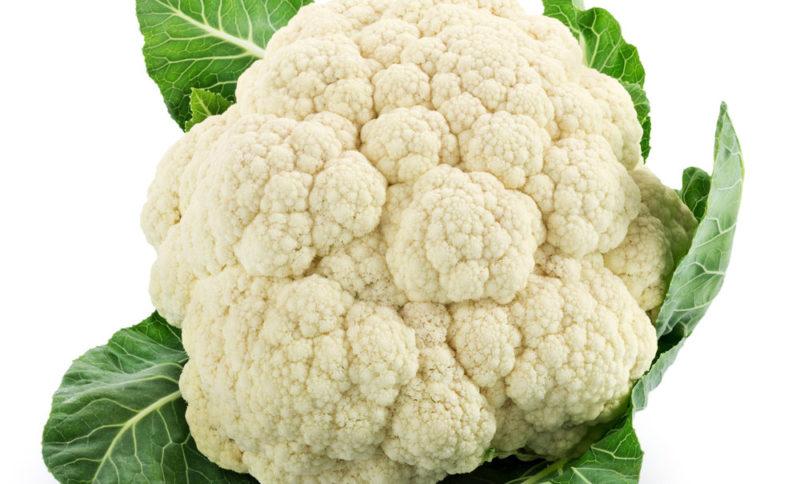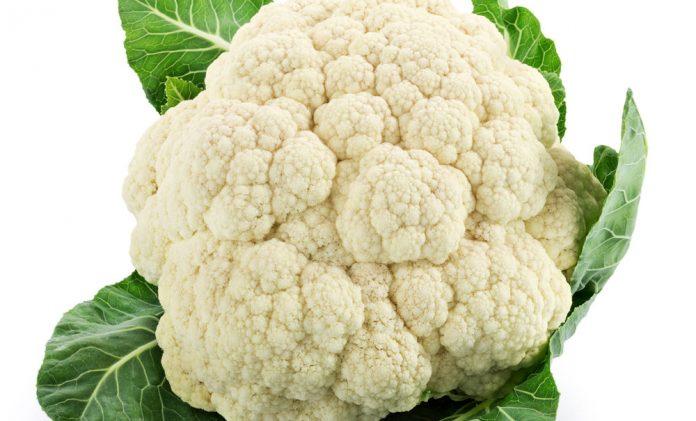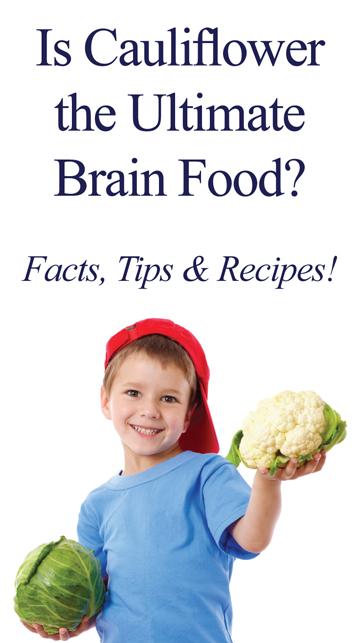 Mark Twain called cauliflower a "cabbage with a college education." Not only does it look kind of brainy, this sophisticated vegetable is versatile, too. You can turn it into "rice," mash it like potatoes, dehydrate it to make crackers, even mix it into chocolate cake! With few calories and tons of fiber, why not get creative with cauli? My favorite way to serve it is mixed into an amazing, kid-approved, gluten-free pizza crust or "riced" as lemon risotto. Cauliflower benefits are endless and you can use it in so many recipes!
Read below for 7 fun cauliflower facts that will make your brain happy, plus 2 delicious recipes your belly will thank you for.
7 Cauliflower Benefits and Facts:
1) Cauliflower is a Cruciferous Vegetable
It's in the same family as broccoli, cabbage, Brussels sprouts, bok choy, and super-food kale, so it's bound to be good for you!
2) Cauliflower is a Good Source of Fiber
It has over 9 grams of fiber in every 100 calories! And there are only 146 calories in a medium-sized head of cauliflower (about 580 grams).
3) Cauliflower Supports 3 Important Body Systems
Cauliflower supports our detox system, antioxidant system, and anti-inflammatory system. These 3 body systems are connected with cancer prevention. It's also an excellent source of Vitamin C, provides a range of antioxidant nutrients and is an excellent source of Vitamin K, which is known for its anti-inflammatory properties.
4) Cauliflower is Really a Flower
The word cauliflower literally means "cabbage flower." If you don't pick a cauliflower when it's round, it will continue to grow into long green branches with tiny cauliflower "flowers" at the ends. The flowers are edible, too!
5) Cauliflower Benefits: You Can Eat the Leaves and Stem
The leaves on cauliflower are edible, but they do have a stronger flavor, somewhat similar to collard greens. Instead of throwing them away, try saving the leaves and stem for stock.
6) Cauliflower Keeps in the Fridge for Up to 5 Days
Store unwashed cauliflower in the fridge wrapped in plastic with the stem-side down so condensation doesn't collect on the florets. When refrigerated, raw cauliflower lasts about 5 days; cooked cauliflower lasts about 1-3 days. Tips for buying cauliflower: it should be dense and heavy with fresh, green leaves. The stem should be satiny white and the florets should be tight and compact without dark spots or mildew (if there are a few brown spots on the outer edges of the florets, simply cut them off before cooking).
7) Celery Can Help Cut the Smell
Not a fan of the way cauliflower smells when you boil it? Try adding celery seeds or celery leaves to the water. It's a simple way to cut down the smell.
Two unique cauliflower recipes to try:
Vegan Cauliflower Pizza Crust That Holds, Folds & Doesn't Crumble!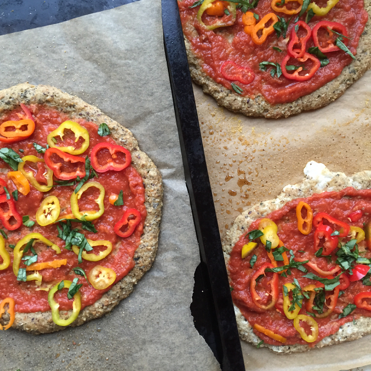 A vegan cauliflower crust that passes the fold test? Impossible. I thought so too, until I added the arrowroot starch to this recipe. It lightens the dough and helps bind the ingredients together. Between the starch and the chia seeds, it makes for a crust that can stand up to tomato sauce and veggie toppings. The best part, it tastes delicious, too. My four-year-old son high-fived me after taking a bite, and my husband actually ate all his cauliflower. It doesn't get much better than that.
SERVINGS: 3-4
ACTIVE: 15 MIN TOTAL: 40 MIN
Ingredients
2 Tbsp chia seeds, soaked in 6 Tbsp water for 10 minutes
2 Tbsp apple cider vinegar
2 Tbsp grapeseed oil
2 Tbsp flaxseed meal + 6 Tbsp water
1 cup riced cauliflower, raw (see note)
1 ¼ cups almond flour
½ cup arrowroot starch
1 tsp oregano
1 tsp garlic powder
1 ½ tsp baking soda
½ tsp Kosher salt
¼ cup nutritional yeast (optional)
Non-stick spray, for baking sheet
Cornmeal, for baking sheet (optional)
Method
Preheat oven to 350 degrees F. Line a baking sheet with parchment paper, spray with a non-stick spray (like coconut oil spray), sprinkle with cornmeal (optional) and set aside.
In a small bowl, add the chia seeds. Top with 6 tablespoons water and set aside for 10 minutes to soak; chia seeds will absorb the water and becoming gooey, like pudding.
Meanwhile, in a medium bowl, add the apple cider vinegar, grapeseed oil, flaxseed meal and water. Whisk to combine and set aside.
In a large bowl, add the riced cauliflower, almond flour, oregano, garlic powder, baking soda, salt and nutritional yeast (if using). Stir to incorporate. Make a well in the center and add apple cider vinegar/flaxseed mixture. Stir to combine. Next, add the chia seed "pudding" and mix until fully incorporated.
Transfer the dough to the prepared baking sheet and carefully press with your fingers to stretch it, working from the inside out. If dough is too sticky to handle, simply wet your hands lightly with some warm water to make it easier to work with. Press the dough to form a rectangle shape (it should stretch to just about cover the size of a 11.5×17-inch baking sheet, but be careful not to make it too thin). Once shaped, press up the edges slightly to form a crust. Alternatively, you can divide the dough into 3 smaller rounds to make personal pizzas.
Bake the plain dough for 15 minutes. Remove from oven and let cool on tray for 1-2 minutes. Top with a thin layer of tomato sauce and veggies of choice. Bake for 10 minutes more. Allow to cool slightly before cutting. Serve.
NOTE: To make the cauliflower "rice," place washed, dried cauliflower florets in a food processor and pulse a few times until mixture resembles rice. Transfer to a bowl and set aside. 1 head of cauliflower will make about 3-4 cups of cauli-rice.
Cauliflower Rice "Lemon Risotto" with Arugula Pesto
SERVES: 4
ACTIVE: 20 MIN TOTAL: 45 MIN (includes soaking time for cashews) 
Ingredients
1 Tbsp extra virgin olive oil
1 shallot, minced
1 clove garlic, minced
¼ tsp turmeric
Kosher salt & freshly ground pepper, to taste
1 cup vegetable broth
¼ cup dry white wine
3-4 cups "riced" cauliflower (from 1 medium-sized head; see NOTE)
For cashew/pine nut lemon "cream":
½ cup raw cashews, soaked in water for 20 minutes or up to overnight, drained
2 Tbsp pine nuts, toasted (also called Pignoli nuts)
3 Tbsp freshly squeezed lemon juice (zest before cutting and reserve zest for garnish)
Kosher salt & freshly ground pepper, to taste
Method
Heat olive oil in a large pan over medium-high heat. Add the shallot, garlic, salt, pepper and turmeric; stir to coat. Reduce heat to medium and cook, stirring occasionally, until shallots are translucent and garlic is fragrant, about 1-2 minutes.
Add broth followed by the white wine and bring to a boil. Reduce to simmer and let cook until liquid reduces slightly, about 5-7 minutes.
Meanwhile, prep the cashew lemon "cream" by placing drained cashews, toasted pine nuts, lemon juice, salt & pepper in a high-speed blender. Add ¼ cup cold water and blend until smooth (if mixture is too coarse, add water 1 tablespoonful at a time and blend again until smooth). Set aside.
Once broth has reduced slightly, add the "riced" cauliflower, and stir to combine. Cook, stirring occasionally, until cauliflower softens, about 3 minutes (if mixture is too dry, top off with ¼ cup broth, as needed to soften). Add cashew lemon "cream" and stir to incorporate. Cook 1 minute for more flavors to come together. Taste and adjust seasonings, if needed. Serve immediately topped with arugula pesto, extra pine nuts and a sprinkling of lemon zest for garnish (or simply garnish with fresh chopped parsley).
NOTE: To make the cauliflower "rice," place washed, dried cauliflower florets in a food processor and pulse a few times until mixture resembles rice. Transfer to a bowl and set aside. 1 head of cauliflower will make about 3-4 cups of cauli-rice.

Citations:
The information on this website is designed for educational and/or entertainment purposes only. The information provided is not intended to be a substitute for informed medical advice or care. Please consult a doctor with any questions or concerns regarding your child's condition. You should not use this information to diagnose or treat any health problems or illnesses.
Summary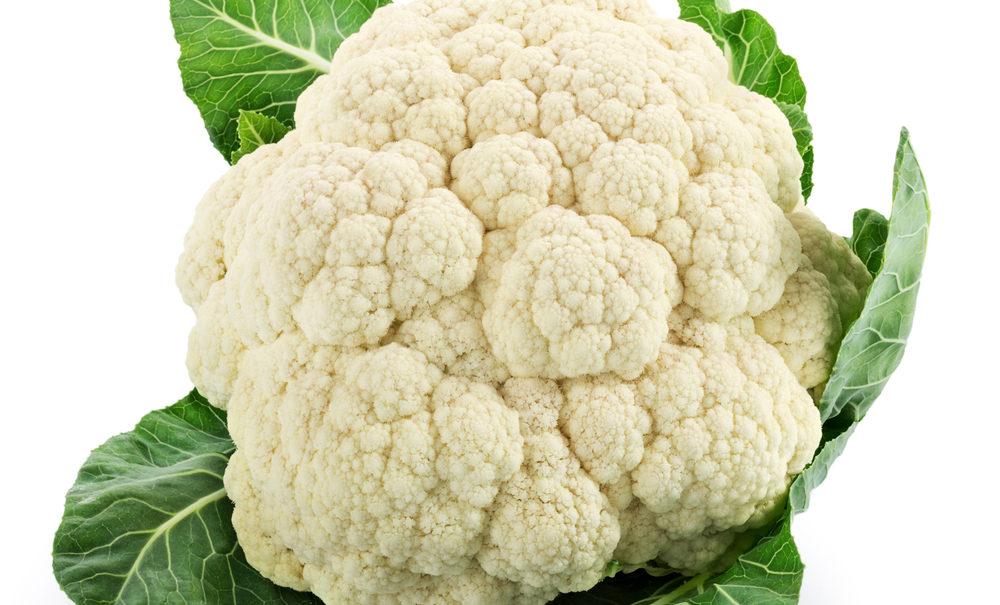 Article Name
Is Cauliflower the Ultimate Brain Food? Facts, Tips & Recipes!
Description
The cauliflower benefits are endless! Read more to find out all that cauliflower has to offer. Plus some insanely good recipes by the Dabbling Chef.
Author
Publisher Name
https://feedingmykid.com/
Publisher Logo