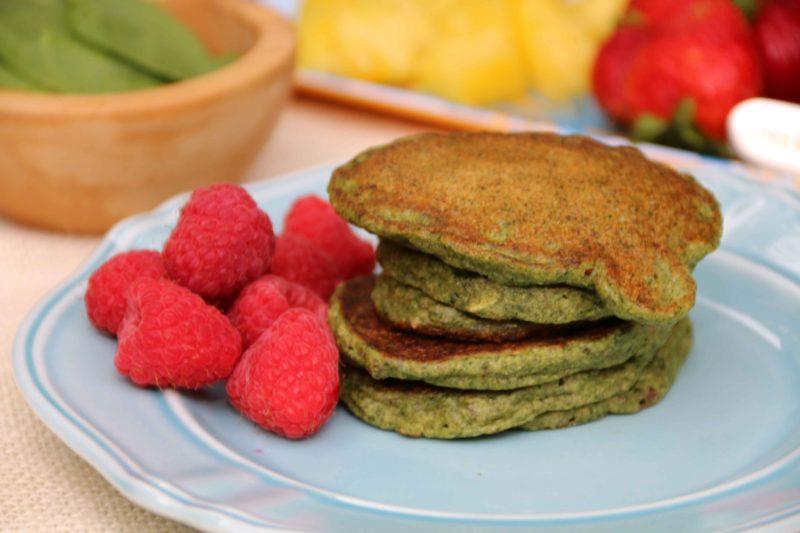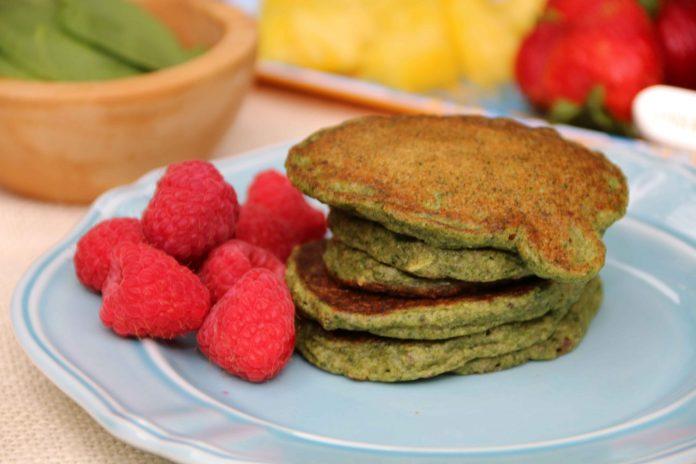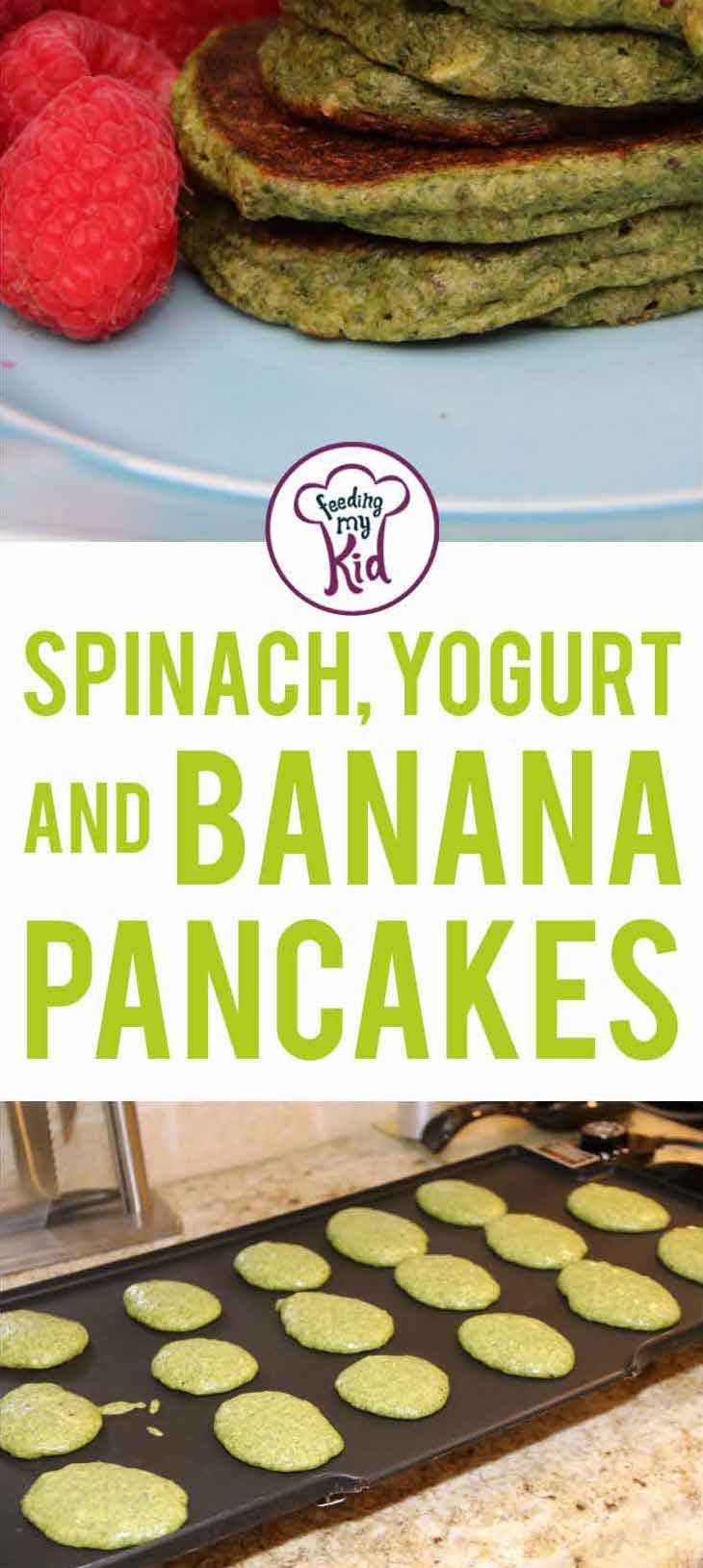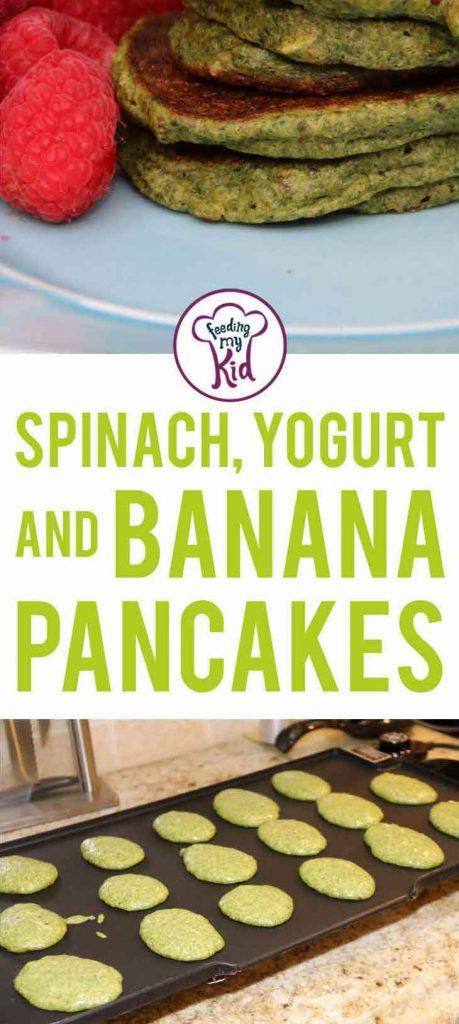 These spinach-filled healthy pancakes are delicious and full of added nutrition. It's incredibly important that we offer our kids a healthy breakfast full of fiber, vitamins and added nutrition.
And, don't forget about yourself too!
These pancakes are surprisingly delicious! 
Check Out These Other Great Resources:
See the Studies Showing Kids Who Eat More Nutritiously Do Better in School
By reducing the amount of sugar, refined simple carbohydrates (such as most crackers, Goldfish, etc) and food coloring children consume during school hours; we think we can drastically improve:
Classroom behavior
Student focus and concentration
A student's ability to retain information
And, teacher's enjoyment for teaching
See more research below the recipe.
Iron from the Spinach
If you want to get the iron benefit from these pancakes, make sure you are using a dairy-free yogurt. Dairy blocks the absorption of the iron-rich foods, so it's important to use a dairy-free yogurt, if, you want to get more iron from your food. This applies to all iron-rich foods and not just these pancakes. Even if you use regular yogurt, you and your child will still get other health benefits from spinach, even if the iron is blocked by the dairy. Spinach is loaded with tons of vitamins and minerals, outside of iron.
Read more about iron-rich foods and absorption. 
Watch the Video to Find How Much Sugar Are Kids Having In A Day?
Pancake Griddles Are Must!
I used to miss eating breakfast with my family by making the next batch of pancakes. My hubby ordered this griddle and now I can make all the pancakes in two batches. What a time saver!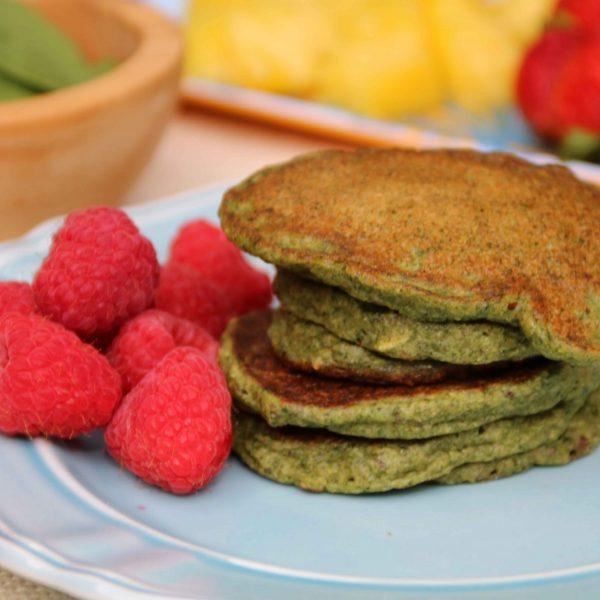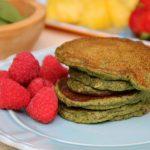 Spinach, Yogurt and Banana Pancakes (Gluten-Free, Full of Fiber and Iron)
This is a super easy and healthy breakfast recipe! Just throw everything in a blender.
Course:
Breakfast, Finger Food, Toddler
Ingredients
2

cups

Frozen Spinach

1.5

cups

Old Fashion Rolled Oats

Pulverized into flour

.5

cup

Flax seed

2

Bananas

2 medium bananas or 1 large banana

1

cup

Full Fat Yogurt

2

Eggs

1

tsp

Baking Powder

1

tsp

Baking Soda

1

tsp

Salt
Instructions
Pre-heat oven to 350 degrees

Pulverize Old Fashion Rolled Oats into Flour by putting 1 cup into a food processor and running it for 30 seconds.

In your blender, add in all the ingredients and blend for 30 seconds.

I created silver dollar sized pancakes. When I use a griddle, I normally cook the pancakes for 3-5 minutes on each size. It may take less time in a pan.

Serve with your favorite berries. It helps to offer spinach with citrus or other fruit with vitamin C to help with vitamin absorption.
Here Is Just Some Of The Research: