One of the most important lessons we can teach our children is how to develop a healthy relationship with food.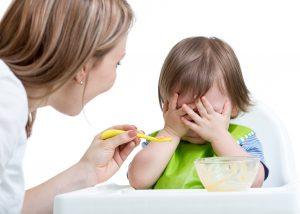 For millions of families, mine included, mealtimes are a struggle. I am a mom of twin toddlers. I've joked that I must be on candid camera, and people are laughing it up as they watch what happens during mealtimes in our home. Sometimes more food ends up on the windowsill than in their mouths. I have twins, so they can at times feed off each other's bad dinnertime behavior.
Check out our welcome video to learn more about our mission.
I have found the internet to be helpful with almost everything related to raising my kids, except for how to best feed my twins.
I felt lost and alone. My friends fell into two categories: having a picky eater and not knowing what to do about it, or having an amazing eater and not having to worry about it.
I didn't want to accept that I had one good eater and one picky eater. I read tons of books about eating, including the psychology of eating and nutrition. If you know me, you know I'm a nut and I over research everything in my life.
After all that research, I realized you can help your child learn to love vegetables. Do you ever eat your feelings? Do you eat when you're sad or bored? Well, a lot of that is learned in childhood. We don't realize some of our well-intentioned parenting techniques send our children the wrong message about food.
You can make sure your child doesn't become an over-eater, under-eater or an emotional eater later in life. And, it starts in how we help children build a relationship with food.
Through this website and growing community, we can learn from each other.
Our community thrives because you spend the time to share your ideas, recipes, experiences and stories with us. We are opening the floodgates asking for your advice surrounding feeding your kid.
We are working on the full-blown website right now.
We are asking regular Mom's and Dad's to become contributors. Upload videos and recipes using this website. Because of your contribution, when the main website goes live, it will already have hundreds or even thousands of recipes and how-to videos.
Are you a food blogger? Post your blogs here.
Let's start by sharing your story now so we can build a knowledge library. Then we can start communicating with one another and sharing ideas, suggestions and educating each other.
Together, let's take the stress out of mealtimes and take back the dinner table!