For Mother's Day, my husband surprised me and our twins with a trip to a blueberry picking farm. We all loved it! My daughter, who once adored eating blueberries, had recently lost her love for them.
Typical toddler food jags. One minute she loves something the next few months, she won't touch it.
It wasn't until she was in the midst of picking blueberries that she decided to try them again… and again, and again! She rekindled her love for these plump little fruits and thus inspired one of the very best easy blueberry desserts.
My son (featured in the photo) wouldn't stop eating them. We even told people at the farm to weigh our son as we think he ate his weight in blueberries and I was happy to pay extra.
No Sugar Added
I'm on a quest to reduce or eliminate processed sugar in our diets. I've made this dessert a few times and each time I am surprised by how yummy and easy this blueberry dessert is.
If you're using tart blueberries you may want or need to add some brown sugar to it or just use more prunes and/or date puree. I'm sure you can always add it later after you baked the dish, if your berries are too tart.
I'm in love with using date puree or prune puree to sweeten my dishes. The natural sugars found in the fruits are balanced out with the fiber and other healthy minerals and micronutrients.
I present to you a healthy treat to satisfy even the pickiest of eaters.
Healthy Blueberry Crumble Recipe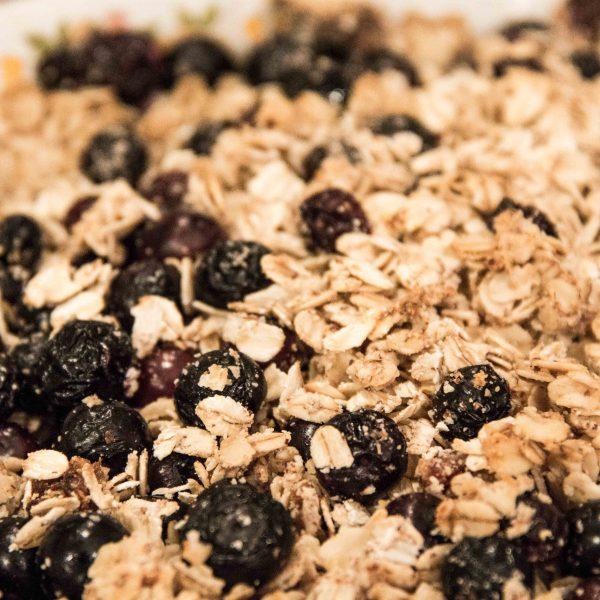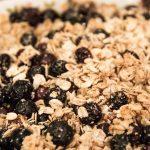 Healthy Blueberry Crumble- Easy Blueberry Desserts
This is a deliciously healthy treat the whole family will love! Filled with fiber and antioxidants and no added sugar. It's healthy and delicious.
Ingredients
1

Stick

unsalted butter

Grated

3

Cups

rolled oats

4

Cups

fresh blueberries

3/4

Cup

almond meal

Ground Almonds (this is optional)

8

Prunes and/or dates

Pureed with some water

1

TBSP

ground cinnamon

1

TSP

vanilla

1/4

TSP

salt

Skip salt if you use salted butter
Instructions
Preheat oven to 375 degrees.

Grate unsalted butter in a 9x9 baking dish.

Puree four dates and four prunes. You may need to add more if your blueberries are tart.

Combine the almond meal, brown sugar, pureed prunes and dates, ground cinnamon, vanilla, salt, and rolled oats with the grated butter in the buttered baking dish.

Gently fold in the fresh blueberries.

Bake 30-35 minutes.
Recipe Notes
The amount of sugar you decide to use is completely up to you, all depending on how sweet or tart your blueberries are. Mine were fresh picked so I opted for no added sugar, but if you're using frozen blueberries you might want to add a little more sugar in your recipe to balance the sweetness. Or, just add more date or prune puree and add even more fiber to this dish.