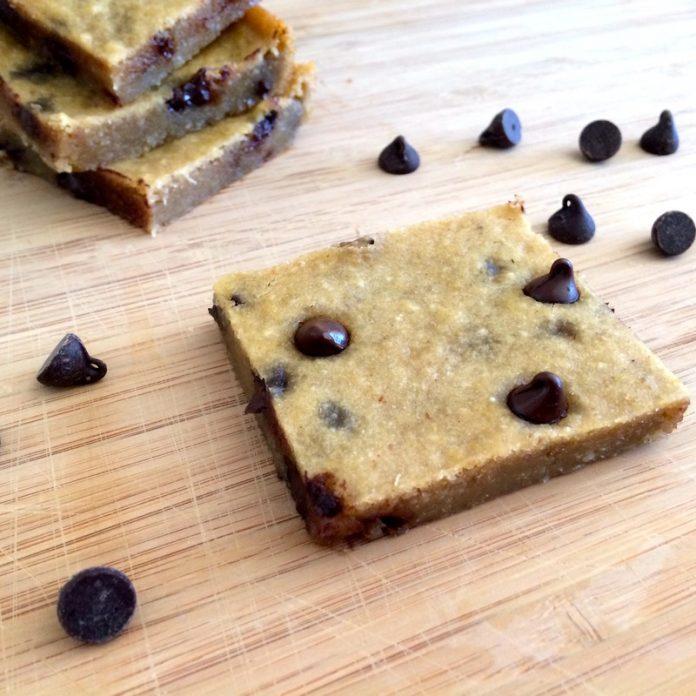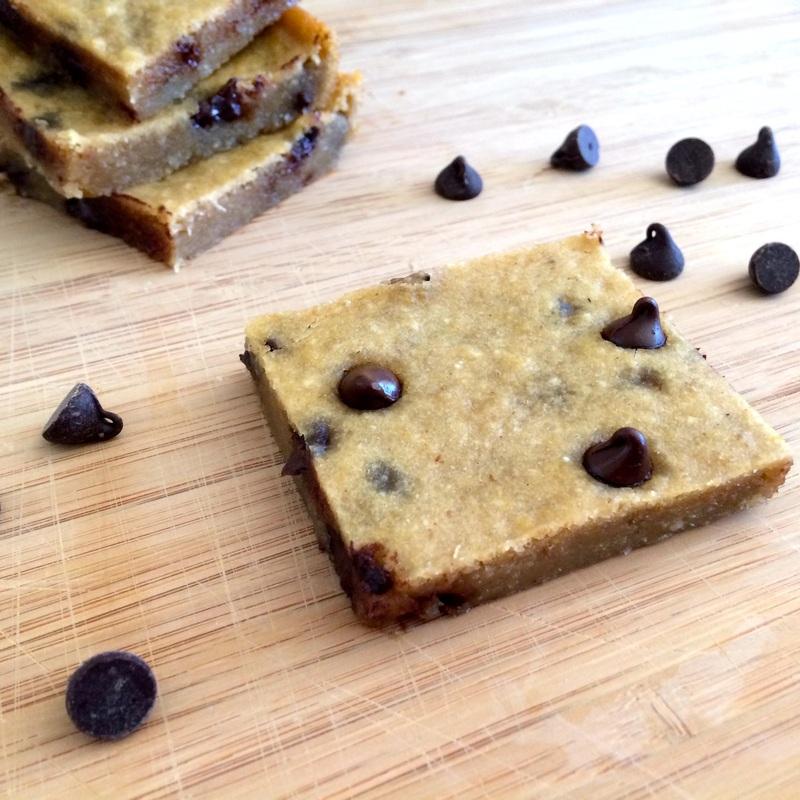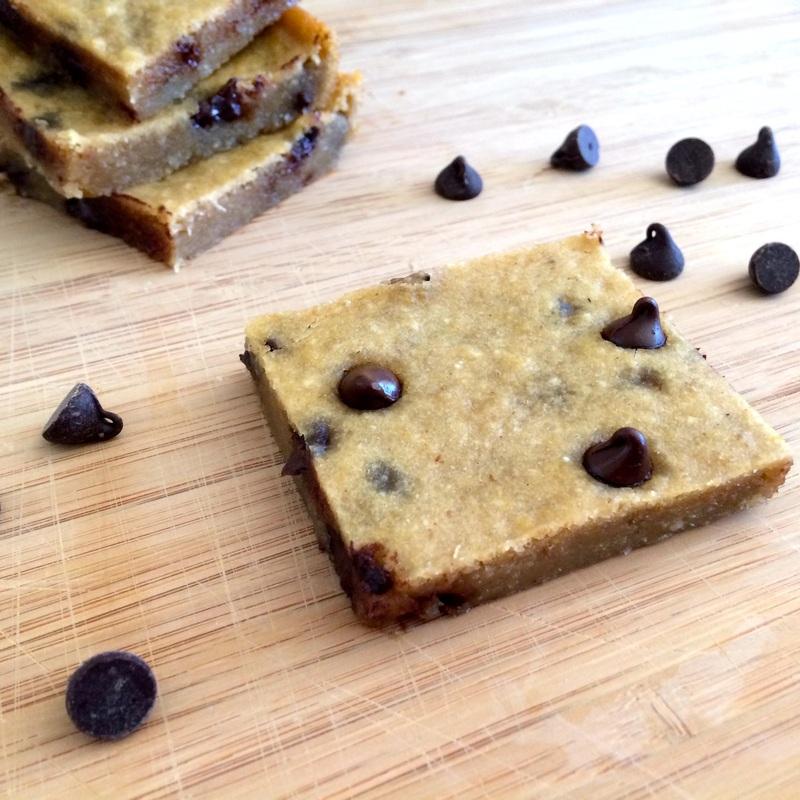 Try these amazing chocolate chip cookie dough bars! These are my new obsession!! Since making them for the first time, there has not been a day that I didn't have any in my fridge. They are my absolute favorite healthy dessert, hands down. These cookie dough bars have passed the test of some very tough critics, and I know you will love them too! They are gluten-free and low-fat with a healthy dose of fiber and protein, making them the perfect guilt-free dessert. Happy baking!!
Cost per serving: $0.45
Calories per serving: 94
Equipment you'll need: large mixing bowl, blender or food processor, 8×8 pan
Ingredients: (makes 9 servings)
1 can (15 oz) chickpeas, drained and rinsed
3/4 tsp baking powder
1/8 tsp baking soda
1/4 tsp salt
1/4 cup xylitol (alternative sweetener – you can also use brown sugar, white sugar, or stevia for baking)
1/2 tsp liquid stevia
1/4 cup quick oats
1/4 cup applesauce
2 tsp vanilla extract
6 Tbsp vegan chocolate chips
Method
1. Preheat oven to 350F and spray pan with non-stick spray (or line with parchment paper).
2. If using a regular blender, mash beans in large bowl. If using a high-speed blender or food processor, skip this step.
3. Add all ingredients (except chocolate chips) to blender or food processor, and blend until smooth.
4. Transfer into mixing bowl and add in chocolate chips.
5. Pour batter into pan and bake for 30 minutes (or until a toothpick inserted in the middle comes out clean).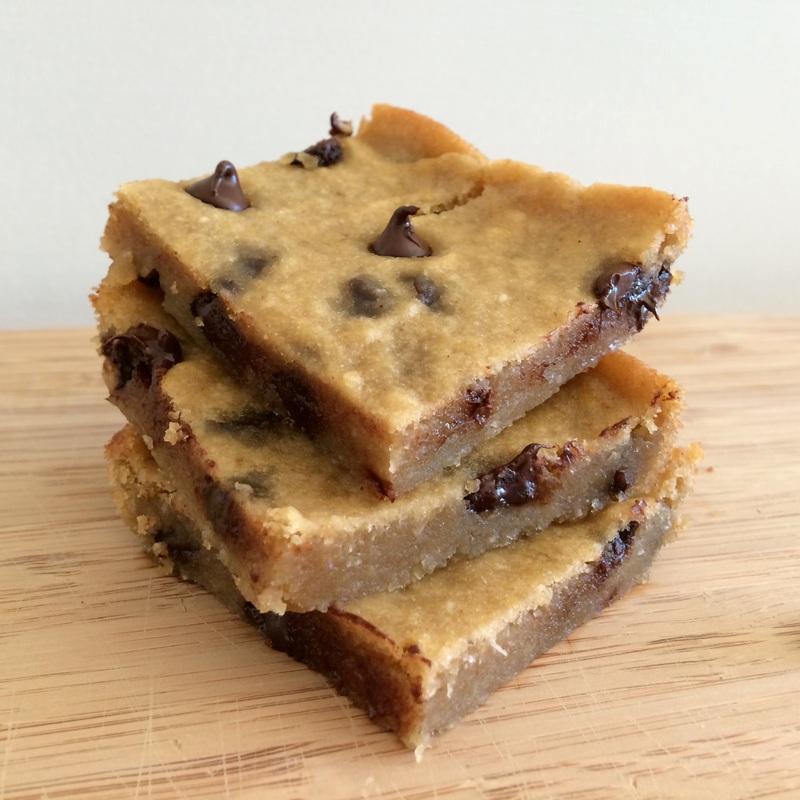 This recipe was adapted from Chocolate Covered Katie's original recipe. Find out the recipe.

About The Author:
Annie is a holistic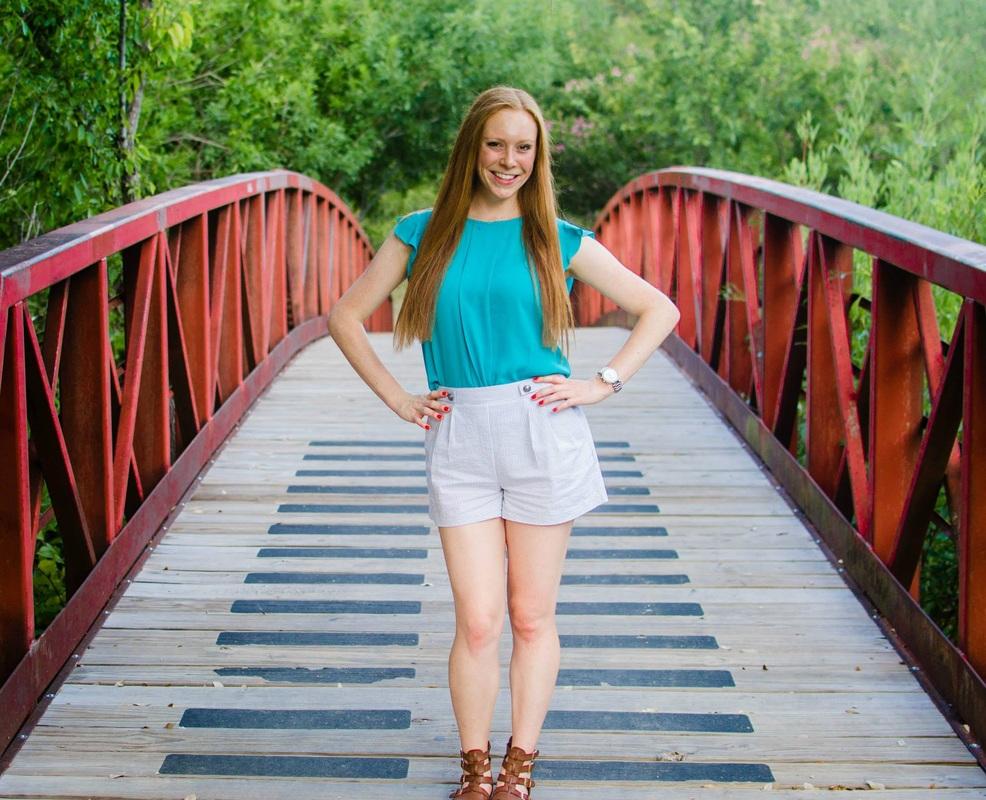 health coach and PhD student in Nutrition at the University of Texas at Austin. She is passionate about helping others heal themselves through the power of nutrition and achieve their health and wellness goals! In her spare time, she loves cooking, playing with her dog, and sharing healthy, vegan, budget-friendly recipes on her 
blog
. You can also find her on 
Facebook
, 
Pinterest
, 
Instagram
, and 
Twitter
.
The information on this website is designed for educational and/or entertainment purposes only. The information provided is not intended to be a substitute for informed medical advice or care. Please consult a doctor with any questions or concerns regarding your child's condition. You should not use this information to diagnose or treat any health problems or illnesses.