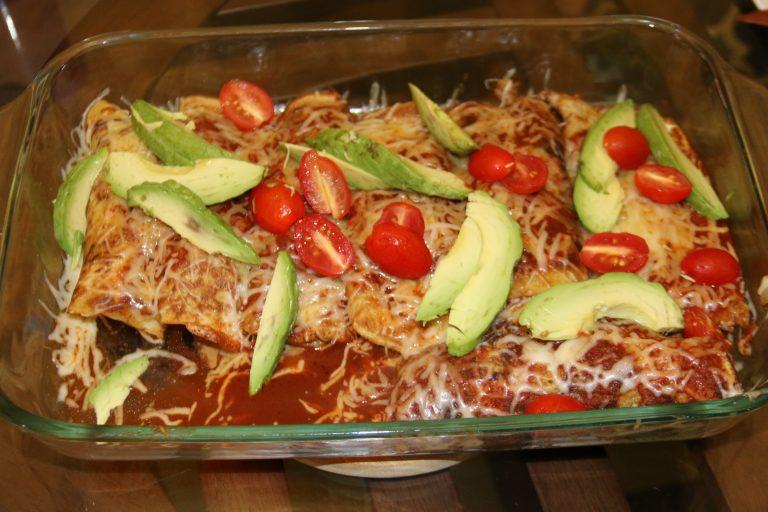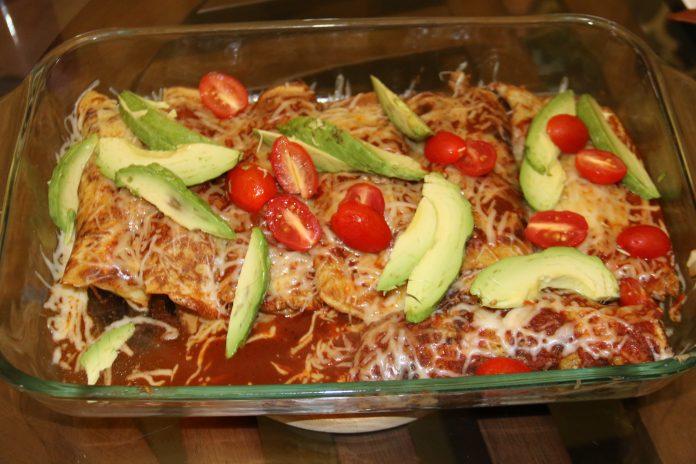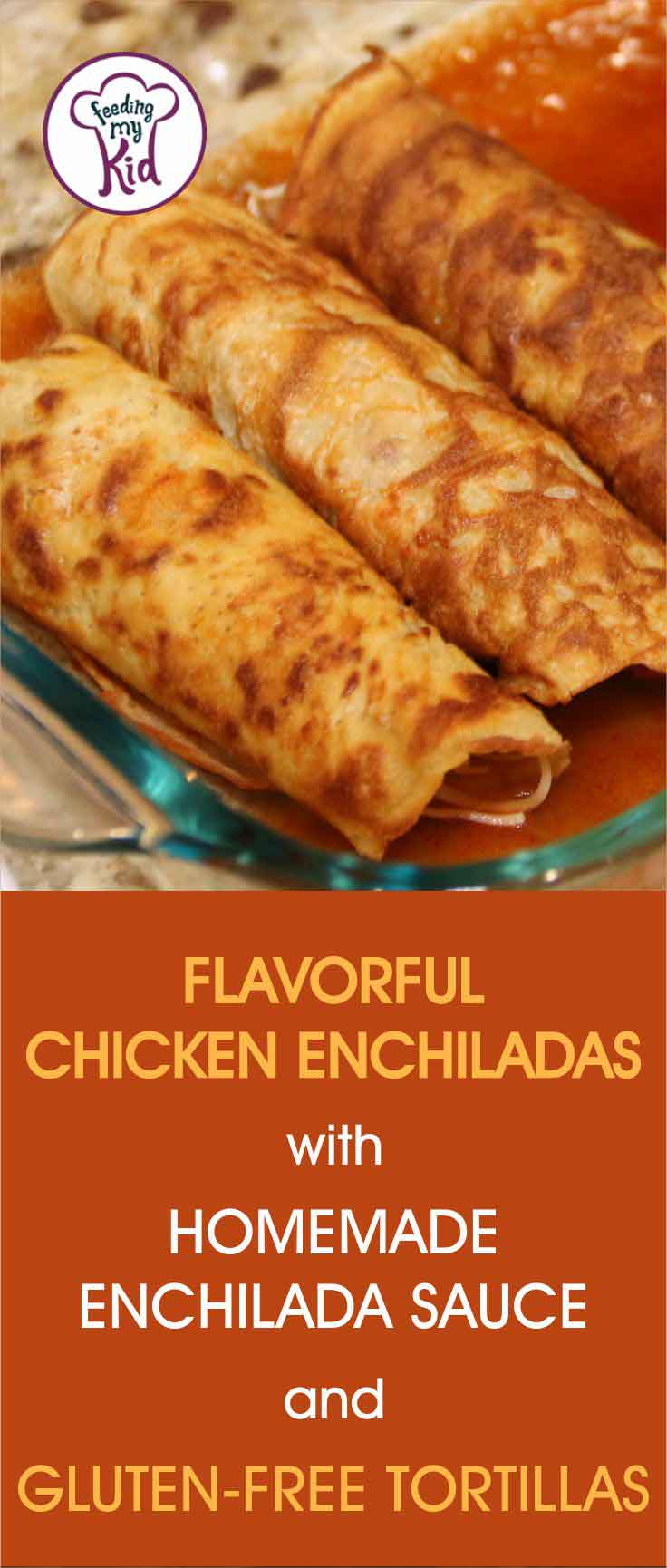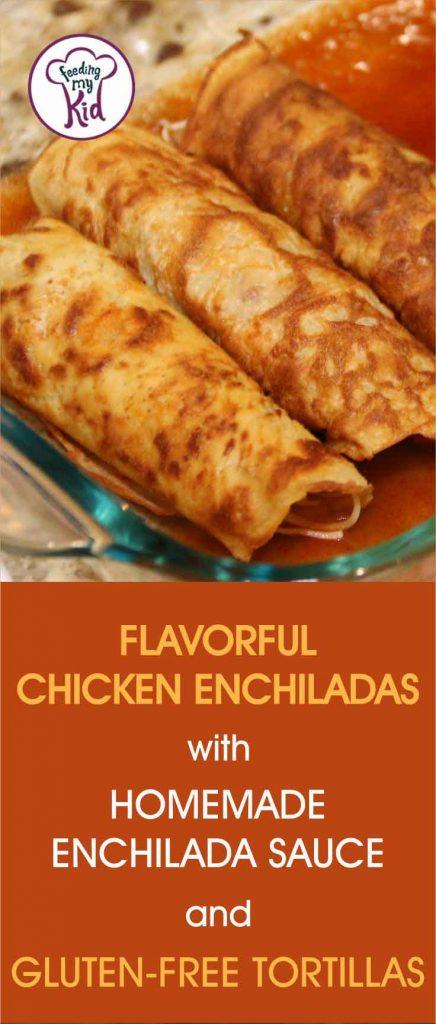 Enchiladas are such a flavorful dish to make. They're perfect for a weeknight dinner, a potluck, or to bring to a dinner party. These homemade chicken enchiladas are packed with flavor and use a delicious homemade enchilada sauce.
Make Your Chicken Enchiladas at Home
Making chicken enchiladas at home is often more cost-effective than going to a Mexican restaurant. You likely pay $8-10 for 3-4 enchiladas. With this recipe, you'll make an entire batch for around the same price.
Easy and Versatile Homemade Tortillas
Mexican nights are great! I love using theme nights to expose my family to different foods and flavors.
These homemade tortillas are perfect for any Mexican dish. Try making them for tacos, enchiladas, tostadas, or burritos. Since burritos are larger, I suggest doubling the recipe and adding 1/2 batter per tortilla so you can fit everything in your burrito.
Try these out and see how you like them!
You Can Use These Tortillas In: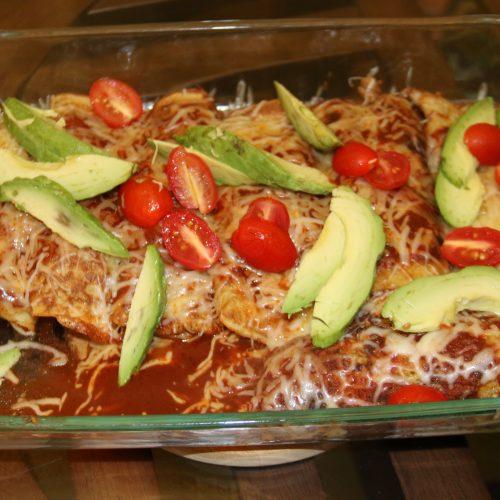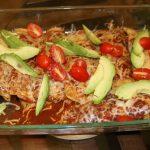 Homemade Enchilada Sauce
Skip the store-bought stuff and make your own enchilada sauce at home! This sauce is flavorful and rich thanks to the spices used.
Ingredients
2

tbsp

olive oil

1/2

cup

tomato sauce

1 1/2

tbsp

chili powder

1

tsp

garlic powder

1

tsp

onion powder

1/2

tsp

salt

1

tsp

cumin powder

1

cup

chicken or vegetable broth

3

tsp

arrowroot flour

1

tbsp

water
Instructions
In a small pan, heat the olive oil. Add the tomato sauce, salt, and spices. Stir until warmed through.

In a small bowl or ramekin if you have one, make a slurry with the arrowroot flour. Add 1 tbsp water to the 3 tsp of arrowroot flour. Set aside until the next step.

Whisk the chicken broth slowly. Once done with that, whisk in the arrowroot flour slurry. Give everything a good mix and turn up the heat until it starts to boil a little. You don't need to bring it to a few boil, a few bubbles will do.

Reduce the heat and let it simmer for about 10 minutes or until it coats the back of the spoon.

Voila, homemade enchilada sauce. Use for enchiladas or even in your tacos. Let it cool slightly before using.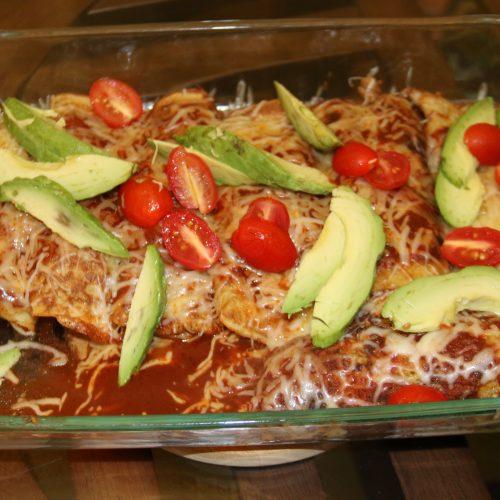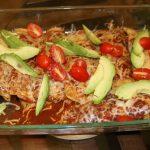 Chicken Enchiladas with Gluten-Free Tortillas
These chicken enchiladas use whole ingredients and are completely homemade. They make a great weeknight dinner, potluck dish, or dinner party dish.
Course:
Dinner, Main Dish
Ingredients
For the tortillas
1/2

cup

tapioca flour

2

tbsp

coconut flour

2

eggs

1/2

cup

almond milk (or any non-dairy milk)

1

tbsp

melted butter (or coconut oil)

1

tsp

baking soda

1/2

tsp

salt

butter, coconut oil, or spray oil for cooking on the pan/griddle
For the Enchiladas
1

tbsp

olive oil

1

medium

white onion, diced

3

cloves

fresh garlic, minced

1

lb

boneless, skinless chicken breasts cut into 1/2-inch cubes

2

tsp

paprika

1

tsp

onion powder

1/2

tsp

cumin powder

2

cups

baby spinach

1

cup

shredded cheddar cheese

1

4 oz

can of diced green chiles

fresh cilantro and avocado for garnish

salt and pepper to taste
Instructions
To Make the Tortillas
In a medium bowl, add the flours, baking soda, and salt. Give them a good mix.

Crack in the eggs, almond milk, butter (or coconut oil) and use a whisk to mix it. Try to get as many lumps out at possible. It should look like pancake batter at this point.

To make the tortillas, you can use a large saute pan to get really round tortillas. Or you can use a grilled for this step! Take a 1/4 measuring cup and scoop some batter out. Drop onto your griddle and cook for a minute per side, until it looks golden.

Remember to add more oil/butter to the pan before starting the next tortilla. Continue until you're out of batter.

Save any extra tortillas. These should stay good for about 2-3 days in the fridge and much longer in the fridge.
To Make the Enchiladas
Chop your onion, garlic, cilantro, and baby spinach (if you like it smaller.) Cut the chicken into 1/2in cubes. Shred the cheese. Lastly, preheat oven to 375 degrees F.

In a large skillet or cast iron pan, add your olive oil over medium-high heat. Add the garlic and onion and saute until fragrant and the onion is translucent about 3 minutes.

Add the chicken and the green chiles. Stir in with the onions. Next, add the spices, salt, and pepper, and cook for 8-9 minutes. Check to make sure there is no pink in the chicken at this point.

Add the spinach and let that cook down until almost wilted. Turn off the heat and continue to stir the spinach until everything is coated evenly. Remove from heat and set aside.

Spoon enchilada sauce onto the bottom of a baking dish. I use a 9 X 13 inch, but you can use 2 smaller dishes or one big dish.

Assemble the enchiladas like spoon about 1 tbsp of the sauce onto the tortilla and then about 2 tbsp of the chicken filling. Add about 1 tbsp of the shredded cheddar, then a drizzle of more sauce if you like.

To make sure the tortilla stays closed: fold the sides over the filling and roll until its tightly rolled. Place it seam side down. Do the same with the remaining tortillas. Once finished, drizzle the leftover sauce over everything and top with the rest of the cheddar cheese.

Bake for 15 minutes. The cheese should be melted and the edges should be a little crispy but you can leave them longer for more crisp or shorter for softer tortillas.

Garnish with the diced avocado, cilantro, and anything else you want. I like to add sour cream (sub Greek yogurt for a healthy substitute) and diced tomatoes. Enjoy!