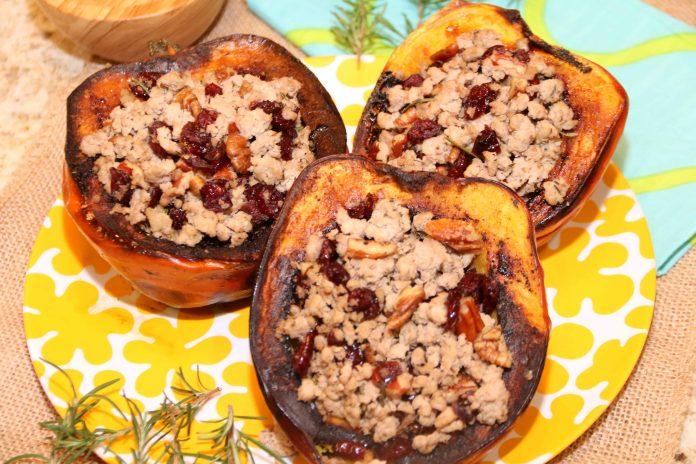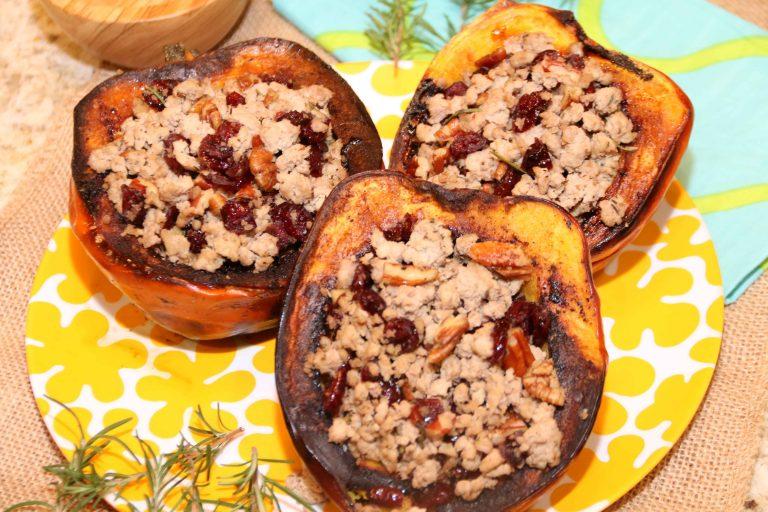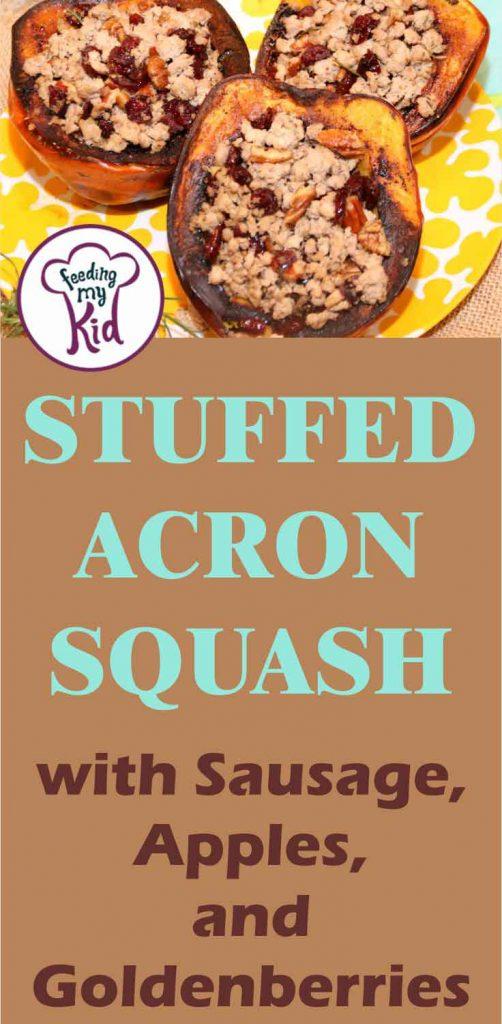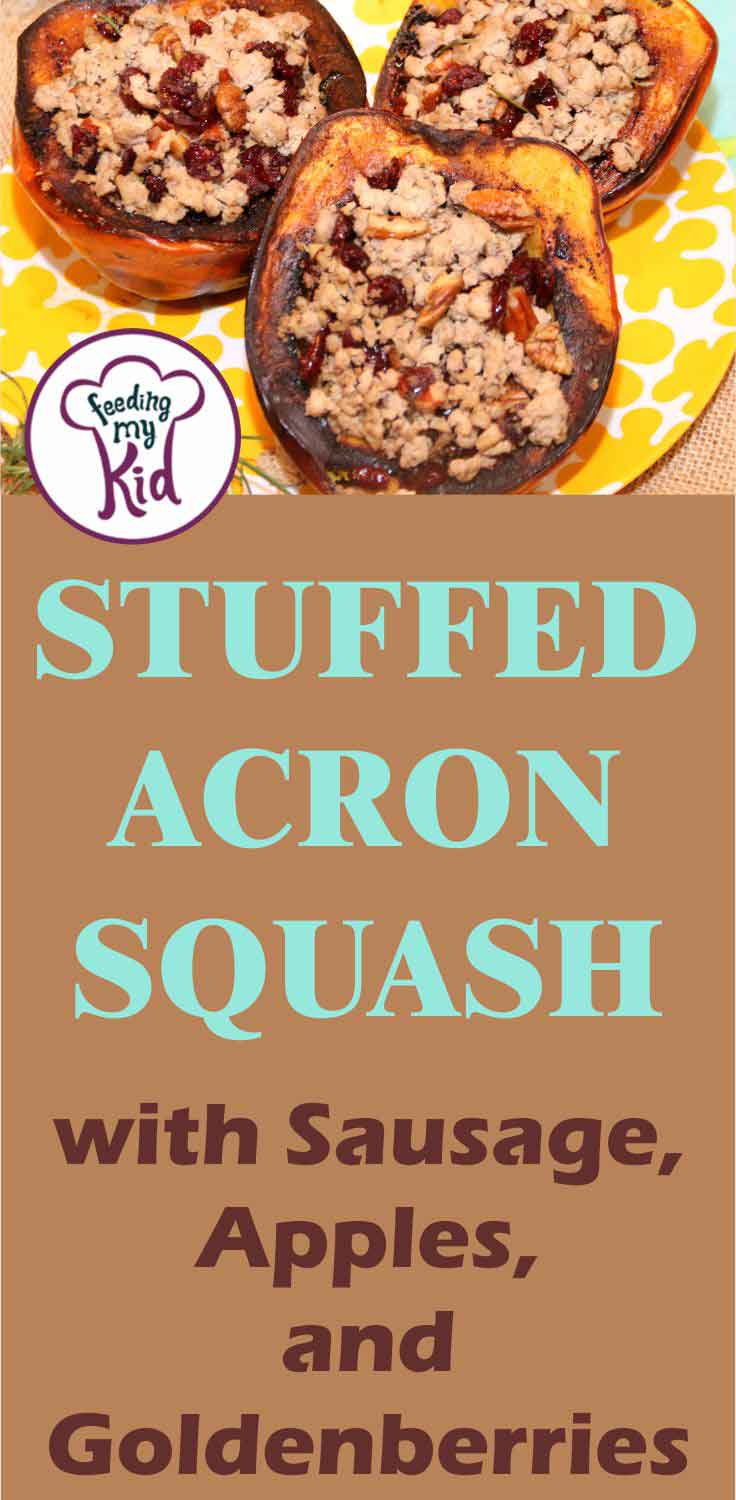 I bought an acorn squash and realized: I have no idea how I'm going to make this. So I Googled "acorn squash recipe" but they didn't seem that great.
I got a few ideas online then hopped into the kitchen and started cooking.
How I Came Up with My Stuffed Acorn Squash Recipe
So many of the acorn squash recipe ideas I got online were filled with ingredients I didn't have.
Many used breadcrumbs or panko which I don't normally keep unless I need them for a specific recipe.
What I did have: sprouted bread and whole wheat bread. Breadcrumbs are really meant to hold the meat together and whole bread also does the same! I small diced it until it was basically bread crumbs and viola: homemade breadcrumbs.
The rest is simple. I just added what I had in my pantry or fridge. Apple and sausage go well so I added that. For the herb: what else goes with sausage? Sage! Parsley for more flavor and color of course.
Lots of stuffings have raisins or cranberries but I subbed goldenberries.
Then, of course, you need your staples like onions, celery, and parsley. You can add in whatever you want to your stuffing. Try this stuffed acorn squash recipe or mix it up and make it your own!
You can always use ground beef, turkey, or chicken instead of the pork sausage!
Don't Eat Pork? We Have Tons of Chicken Recipes: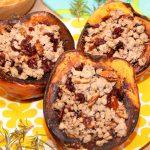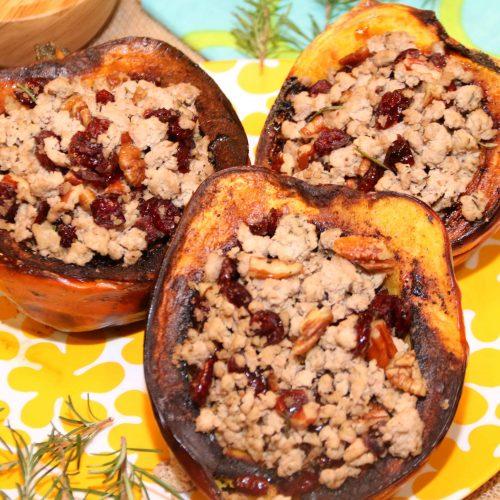 Stuffed Acorn Squash with Sausage, Apples, and Goldenberries
This acorn squash recipe is filled with all the flavors of Fall! A healthy and delicious dinner for any night of the week.
Cuisine:
American, Vegetable
Ingredients
1

whole acorn squash, halved

2

cups

whole wheat bread, large diced

1

cup

sprouted bread

1

cup

white onion, finely diced

1/2

cup

celery, finely diced (about 3 stalks)

1/2

lb

pork sausage (or you can even use ground turkey!)

1

tsp

fresh sage

2

tbsp

fresh parsley, chopped

2

apples

cored and diced

1/4

dried goldenberries

2

tbsp

olive oil or ghee

1

tbsp

butter

1/2

cup

bone broth

salt and pepper, to taste
Instructions
To bake the acorn squash
You'll want to cook the acorn squash first so that it's ready to go once your stuffing is done. Preheat oven to 350 degrees F.

Cut the acorn squash in half and scoop out the seeds. Using a brush, coat with olive oil and season with salt and pepper

Place the halves open side up on a baking sheet for 20 minutes. Once it's fork tender, you can remove it from the oven and prepare to place the stuffing inside.
To make the stuffing
Small dice the bread until it resembles breadcrumbs. This doesn't have to be perfect! You just want the bread to be small enough to soak up all the fluid from the stuffing and marry well together.

In a cast iron skillet or a non-stick pan, add a tbsp of oil. Add the celery and onions to the pan. Let them sweat down and get tender. Next, add the sausage and using a flat wooden spoon, break up the sausage as it cooks.

Add the salt, pepper, and herbs and give it a stir. Next, add the apples and let them cook for about a minute or two until almost tender. Then add the cranberries, bread, and butter.

Lastly, add the chicken stock 1/4 cup at a time until it resembles regular stuffing and isn't too wet. I used the full 1/2 cup but you might need more or less.

Once the stuffing is finished, stuff the acorn halves and bake another 20 minutes, making sure the squash is tender enough to eat and the stuffing looks fully baked through. Enjoy!