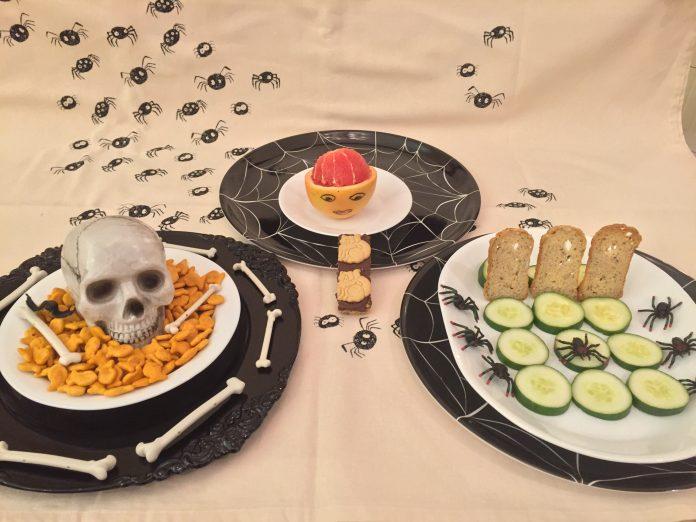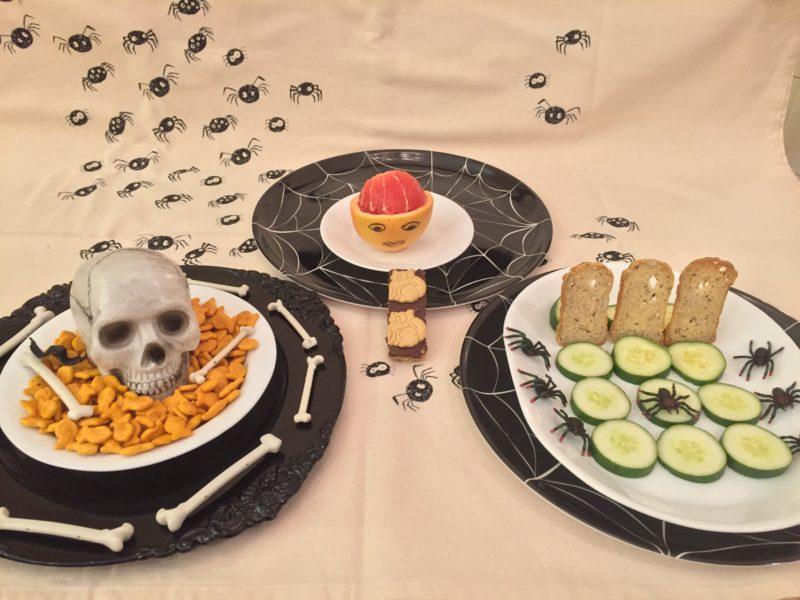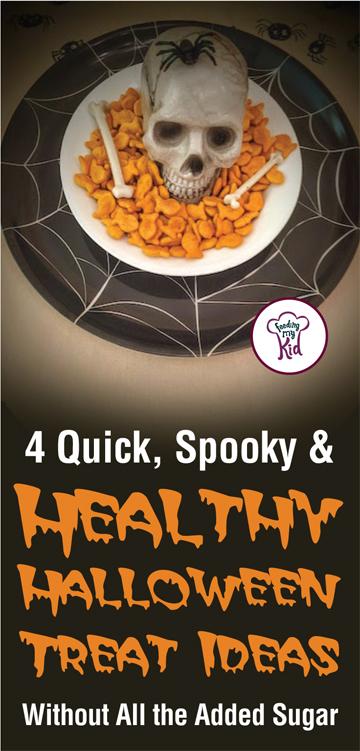 Halloween is right around the corner and I know that it is probably one of the most anticipated occasions of the year for many young kids and their families. When I was a child, I could hardly wait to pick my costume and rake in the candy. Now that I am a dietitian, however, I see things a bit differently. Halloween doesn't have to revolve around candy and sweets. Here are some ideas for healthy Halloween snacks.
Check Out These Other Halloween Ideas:
Healthy Halloween Snacks To Make With Your Kids
I want to use today's article to provide parents out there quick, spooky and relatively healthy Halloween snacks that I believe can get your children into the Halloween spirit, without necessarily requiring candy or other typical Halloween treats.
These Halloween snacks are great for events at home or school!
Each of these Halloween snacks uses relatively common household or grocery store food items and may also require a few inexpensive Halloween-related props that should be widely available in the month of October. Let's take a look at the spooky treats that I came up with.
Piranha Pit Goldfish Crackers
On any other day of the year, Goldfish crackers are just an everyday snack that kids enjoy.  On Halloween, when you place them in a big bowl labeled "Piranha Pit" and throw in a large plastic prop skeleton or skull, you now have flesh eating piranha crackers! Just be sure to give the props a quick wash before putting them in with the crackers.
Full Moon/Werewolf Granola Bars
There is nothing particularly spooky about a granola bar, but when you adhere a few wolf cookies (from Barbara's Snackimals packs) to the bar, you now have Werewolf or Full Moon Bars!
With a little bit of imagination and decoration, these bars can go a long way.  You can use peanut butter or honey to adhere the wolf cookies to the granola bars.
Melba Toast & Cucumber Graveyard
In my experience, cucumber and Melba toast are among the perceived "healthy foods" that most kids actually enjoy or at least don't mind eating. So I figured, why not put these two together with a Halloween twist?
Lay out cucumber slices (meant to resemble grass) on a large rectangular plate and place the Melba toast upright one the ends. They are meant to resemble a set of tombstones. You can also add little prop spiders or bones on the "grass" surface, provided you don't have children under the age of 3 that might mistake them for food.
Grapefruit/Orange Zombie with Brains
It would not be a healthy Halloween treat list if I didn't manage to work fruit in here somehow.  The goal here is to produce a zombie head, with its "brains" sticking out.
In order to accomplish this, you will cut the grapefruit in half, peel the top portion and place it back on top of the grapefruit while using a marker to draw some eyes on the skin of the bottom portion. A grapefruit works better than an orange, due to the pink color, but your kids may prefer oranges.
No Stress, Easy and, Healthy Halloween Snacks
I hope you guys enjoyed these quick, spooky and healthy Halloween ideas. I know there are a ton of creative Halloween treat recipes out there, but I really aimed to provide you something here that is both spooky and requiring only minimal time on your end, because I know how busy you all are.
I hope everyone has a healthy, happy and spooky Halloween!

The information on this website is designed for educational and/or entertainment purposes only. The information provided is not intended to be a substitute for informed medical advice or care. Please consult a doctor with any questions or concerns regarding your child's condition. You should not use this information to diagnose or treat any health problems or illnesses.