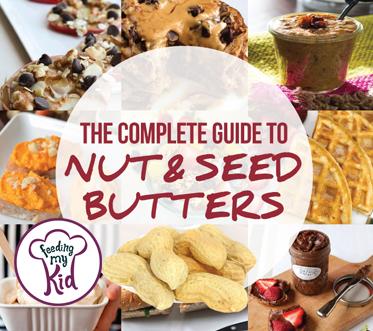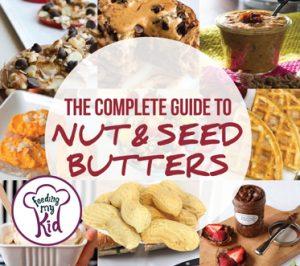 Nut and seed butters are a must-have in the kitchen. With an exceedingly high nutritional value, they offer a healthy and savory addition to your breakfast, lunch, or dinner.
Add texture and flavor to your smoothies, use as a binder for raw slices and pies, thicken soups and grains, or simply fill crepes and pancakes for a new Sunday morning tradition.
The culinary possibilities of nut and seed butters are endless! Easily take your child out of a PB & J rut by introducing these alternatives with new textures, flavors, and smells!
Plus, you'll feel good knowing that some of these butters are actually healthier for you! Here's a list of great nut and seed butter recipes including almond butter for you to test out in the kitchen with the whole family.
We've dug high and low for everything you need to know about nut and seed butters. Tree-nut and peanut allergies are on the rise, and many schools are becoming completely nut-free! Therefore we have put together a list of great alternatives for you to try and to help allow your child to become the adventurous foodie he or she is destined to become!
Almond Butters

Loaded with more calcium and iron than peanut butter, this alternative could become your new pantry go-to! Almond butter retains all of the nutritional value of whole almonds, and is loaded with healthy mono-unsaturated fats, essential fatty acids, protein, magnesium, and dietary fiber. Did you know it contains 169% more Vitamin E than peanut butter? Plus, it is most closely compared to the flavor of traditional peanut butter, so you might not even recognize a difference in taste! Check out these great Almond Butter recipes for delicious desserts and dinners.
If your local grocery store doesn't offer almond butter, check out our Amazon store and have it shipped right to your door.
Cashew Butters

This is the rich replacement that you've been looking for! With high levels of unsaturated fat and packed with protein, pure cashew butter is also a great source of magnesium, copper and phosphorus. This sweet and creamy alternative will have you indulging without the guilt! Roasted or raw cashew butter have a buttery flavor, but are often filled with added salts that may compromise the nutritional value of the butter. It's super easy to grind up dehydrated and soaked cashews in your blender for a pure product. Then try these easy to make Cashew Butter energy bites!
Cashew butters are rising in popularity, but may be more difficult to find in stores. However, we have plenty of brands to choose from in our Amazon store waiting just for you right now!
Soy Butters

Fear not for no-nut butters… it's a slightly sweeter take on classic peanut butter! Even Grandma can still keep her traditional cookie recipes by omitting the peanut butter for a soy based butter. Soy-based butters are a perfect choice for nut-free schools. Gluten-free and dairy-free, this allergen friendly alternative will keep kids happy and moms at ease. Take a look at these (non) nutty butter cookies.
If your local store doesn't carry soy butters, or if they are lacking in variety, take a look at our Amazon store for the selection of your choice!
Pumpkin Seed Butters

Tis the season! And now you can literally have pumpkin everything! Spread it on toast, muffins, and scones; or get adventurous and try this fall-inspired Pumpkin Seed Butter Dressing to pour over salads and pastas! Offering up to half the recommended daily doses of copper, magnesium, manganese, zinc, and phosphorous, you can feel good about providing a nutritious meal that will wow your little ones. The odd green color may even take them by surprise! Get festive and compliment your Halloween party hors d'oeuvres this season!
If you haven't already, get on the pumpkin-everything train and buy yours here on Amazon!
Sunflower Seed Butters

A popular substitute for tree nut allergies, sunflower seed butters are on the rise! Supplying calcium, iron, potassium, zinc, phosphorus, magnesium and selenium, sunflower seed butters are a perfect addition to anyone's diet. Slather it on toast, blend in salad dressings, or cook with it at any meal! Check out this unique Sriracha Lime Chicken with Sunflower Seed Butter recipe to spice things up at the dinner table this week.
Use sunflower seed butter everywhere you would use peanut butter. Another amazing option if your child's school is nut-free. Don't forget to buy a jar (or two!) from our Amazon store.
Deluxe Nut Butters

For a nutty twist, try a deluxe nut butter to liven up the flavor in your recipes. Add to soups and stews or in baking for a unique flavor. Can you imagine pecan butter on sweet potatoes… or pistachio butter spread on a muffin? Maybe add other nuts (like cashews) to your own blended butter as a natural sweetener. Shock your guests with these Honey-Orange Glazed Walnut Butter Scones. Then tweak the recipe with other nut butters to make it unique! Don't forget, the possibilities are endless!
Find our unique variety of deluxe nut butters on Amazon now:
Pecan
Walnuts
Macadamia
Pistachio
Coconut Butters

Just by the sound of it, you know it's going to be good. This tempting treat is a great yogurt, granola, or ice cream topper. Use it for baking, thickening soups, or as a quick and tasty spread. Try one of these "ridiculously addicting" Coconut Butter Recipes. With anti-viral and anti-bacterial properties, as well as being very high in fiber, everyone should have a jar of coconut butter in their pantry!
Check out our grand selection of Coconut Butters in our Amazon store!
Peanut Butters

Well, haven't you eaten it by the spoonful? Peanut butter may not be the lowest caloric food on the market, but it's certainly a staple in healthy eating habits! Packed with good-for-you-fats and a high protein content, this comfort food can be added to nearly any meal. Here are 50 Peanut Butter Recipes you need to know.
Scan the brands we have on Amazon and have it shipped to your house today!
Powdered Peanut Butters

With up to 90% less fat calories than traditional peanut butter, this is a dieter's dream! It's made by extracting the oils in whole peanuts and dehydrating what's left. That's it! However, the fat content in the oils of peanuts are actually beneficial to your health! So swap it for additions to smoothies, baked goods, and overnight oats, but be sure to try the other healthy alternatives listed above, too. Here's an easy Powdered Peanut Butter Thai Chicken recipe that your family will be sure to love. 
These are some of our favorite brands, and there's plenty to choose from on our Amazon store!
Flavored Nut Butters (& Cookie Butters)

Take it up a notch with these delectable flavors! Here is an outstanding compilation of 75 Cookie Butter Recipes; but get creative and try other flavors! Then share your recipe with us and other moms, too! Just remember, consuming these sugary substances need to be in moderation as a part of a healthy balanced diet.  
Try these fun flavors and more at our Amazon store!
The information on this website is designed for educational and/or entertainment purposes only. The information provided is not intended to be a substitute for informed medical advice or care. Please consult a doctor with any questions or concerns regarding your child's condition. You should not use this information to diagnose or treat any health problems or illnesses.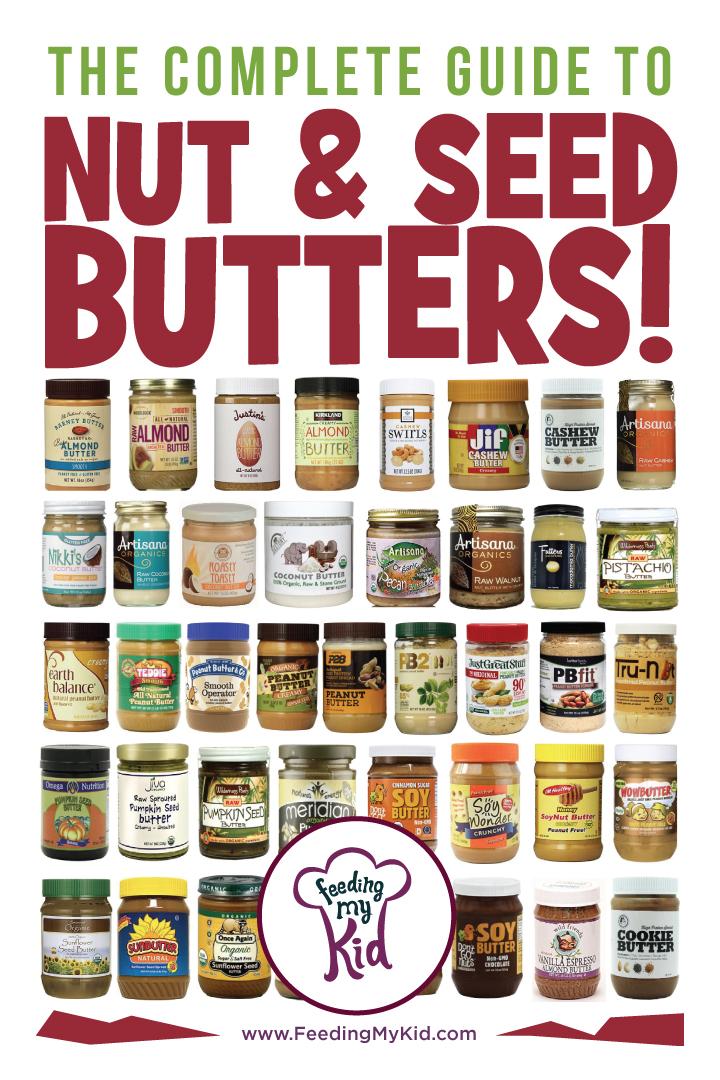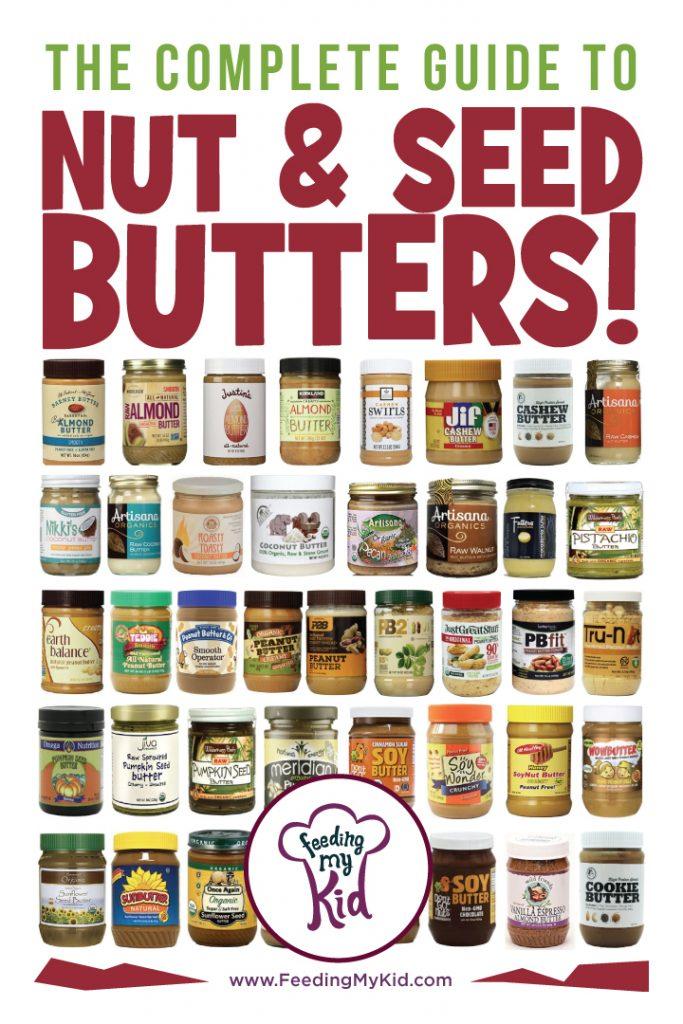 Summary

Article Name
The Complete Guide to Nut and Seed Butters
Description
Nut and seed butters are a must-have in the kitchen. Learn more about almond butters, peanut butters, sunflower seed butters, cashew butters, etc.
Author
Publisher Name
https://feedingmykid.com/
Publisher Logo