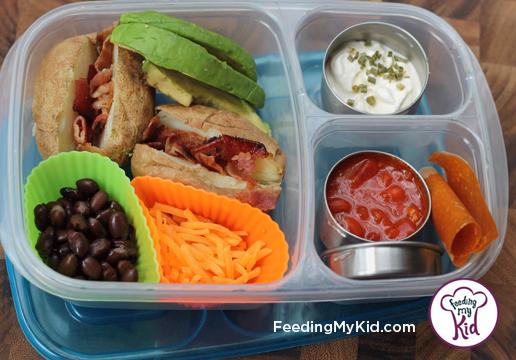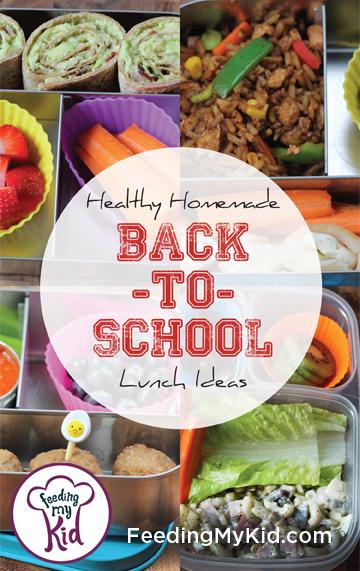 Having my mom pack me a healthy homemade lunch every day for school is a warm and fuzzy memory that I still have to this day.
While packing a homemade lunch, if you break it down into these food groups, it makes it easy to pack.
We always recommend that you include at least one fruit and one veggie. Get creative with the main dish! Sandwiches, wraps, pastas, rice, salads, soups, last night's leftovers, the options are endless.
If you need some more ideas for a side dish or mid-day snack, check out our video on healthy snack ideas.
To make the experience even more enjoyable for your child, try packing their lunch in fun bento boxes, a brightly colored lunch box, and using fun tooth picks and sandwich cutters. Check out our article on our top rated school lunch supplies.
To start their day off with a healthy wholesome breakfast, check out our article.
Here are some recipes to get you started on planning awesome homemade lunches. Mix and match lunches ideas to add a lot of variety without the extra work.
Check Out These Other Great Resources:
Sandwiches/Quesadillas
Avocado And Chickpea Sandwich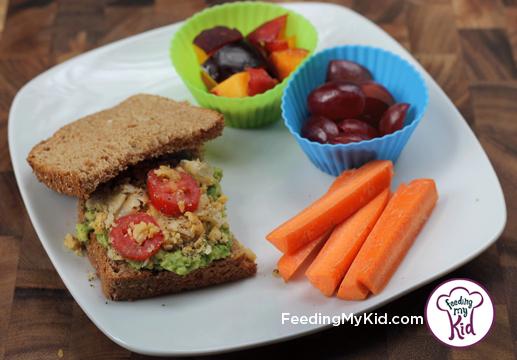 This sandwich is SUPER easy, super creamy thanks to the avocado,  and packed with healthy fat and protein.
Using whole grain bread, mash up half a small avocado then top it with about a 1/4c of coarsely mashed chickpeas.
Finish it up with some fresh black pepper and tomato slices.
We paired this lunch with a stone fruit salad + kiwi, grapes and carrots.
Stone fruit salad are all fruits with a pit such as: nectarines, peaches, plums, and/or apricots. Pick and choose the stone fruits you would like to include.
Strawberry Grilled Cheese Quesadilla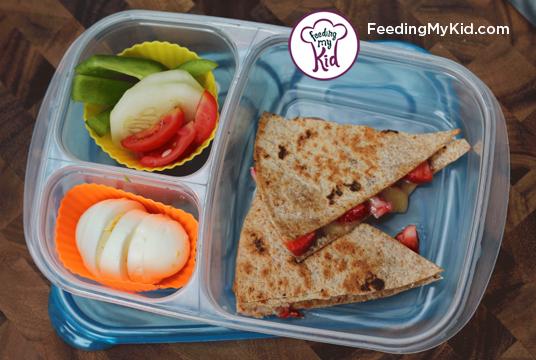 This is a bright and delicious twist on a classic grilled cheese.
Butter a pan to grill the tortillas, add some shredded white cheddar to both tortillas, throw on some sliced strawberries  and voila!
We paired it with a hard boiled for extra protein and a veggie assortment to balance out the fruit.
Tomato And Cream Cheese Sandwich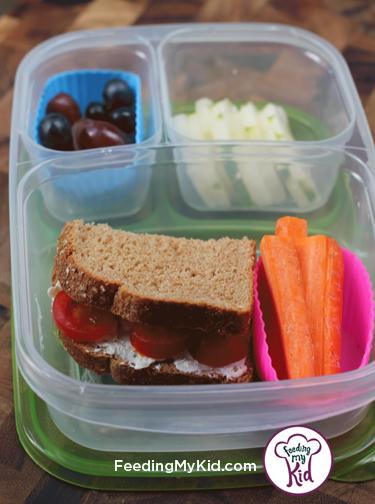 What kid doesn't love cream cheese? This is delicious combination that can be served on a toast, a bagel or as a roll up.
Toast 1-2 slices of whole grain bread and top with cream cheese and tomato slices.
We paired this up with carrot sticks, cucumber slices and grapes for a produce packed lunch!
Black Bean And Corn Quesadillas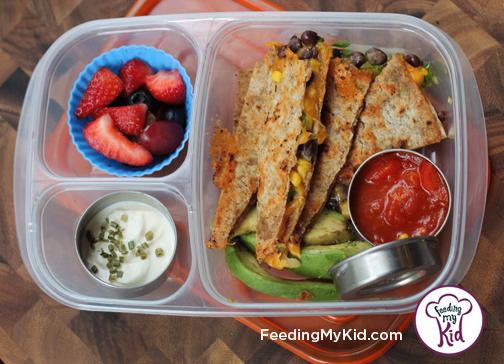 Here is another super easy quesadilla that you can whip up in minutes.
Butter your pan and and place your 2 tortillas
Top each with Mexican style shredded cheese, black beans, corn and taco seasonings
To make this lunch even more fun, served it alongside salsa, sour cream and avocado slices for topping or dipping. We added a berry grape salad as a sweet side dish.
Easy Egg Salad and Sprouts Sandwich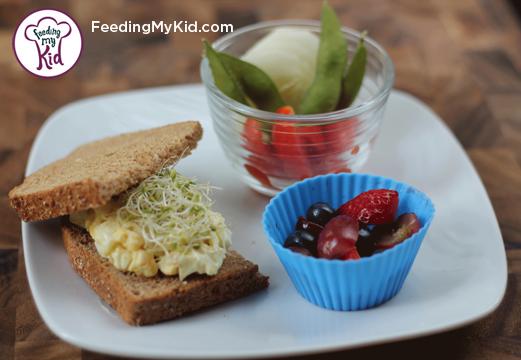 The has to be the easiest egg salad ever! Adding sprouts on top is a delicious addition.
Toast 1-2 slices of whole grain bread.
Mash one cooled and peeled hard boiled egg with 1 TBSP mayo.
Top on toast and add a few pinches of alfalfa sprouts.
Feel free to add spices to your child's tastes. Change up the toppings by adding fresh spinach, different kinds of sprouts, and/or cucumbers.
Bacon Avocado Roll Ups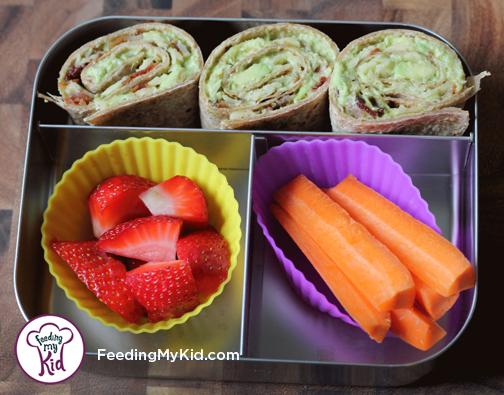 Crunchy and creamy, these are a decadent tasting and incredibly easy to make. Your kids will love the idea of bacon for lunch!
Spread an 8 or 10 inch tortillas with 1-2 TBSP of mayo
Top with 1/2 mashed avocado, 2-3 slices crumbled bacon and shredded cheddar cheese.
Fold wrap long ways then cut into 1-2 inch rolls.
You can paired these rolls with carrot sticks and fresh strawberries. You can also add sprouts into these wraps for a healthy twist.
This recipe is adapted from Moms on the Sides Bacon Avocado Pinwheels.
Veggie Pizza Quesadillas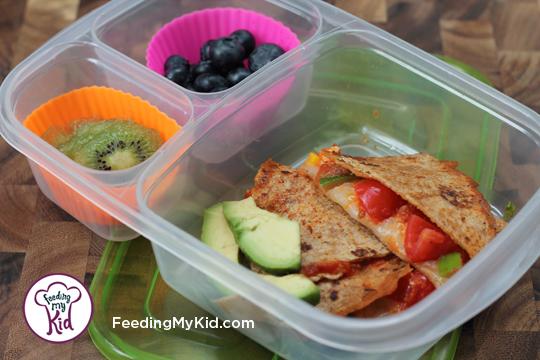 Pizza is a lunch room staple! This fun recipe lets your kids have their pizza, and veggies too! 😉
In a buttered pan, place 1-2 tortillas
Spread each with some pasta or pizza sauce
Top with shredded mozzarella, tomatoes and peppers.
These pizza quesadillas can literally be stuffed with ANYTHING from ham, pineapple, sausage, olives- the options are endless! Serve this with some fresh fruit for a sweet side.
Honey Carrot Cream Cheese Wraps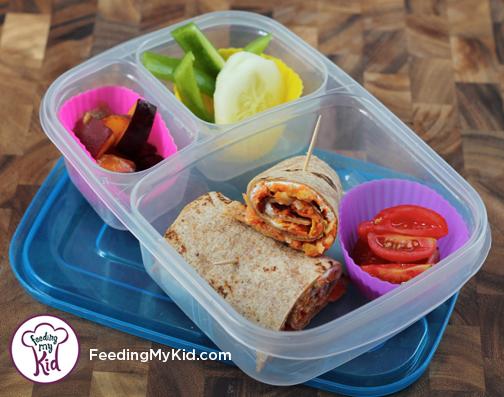 These sweet and crunchy wraps, bursting with super bright orange and yellow colors.
Spread a whole wheat tortilla with 1 TBSP cream cheese.
Shred a carrot (or 2!) place on top of the cream cheese.
Finish off this wrap with a bit of lemon zest and a small drizzle of honey.
Pair these wraps with some tomatoes, cucumbers and green pepper slices. Plus, a fruit. We used a stone fruit salad because all the ingredients are in season during Summer. This recipe is adapted from Snack Girl's Carrot Wraps.
Cucumber Sandwiches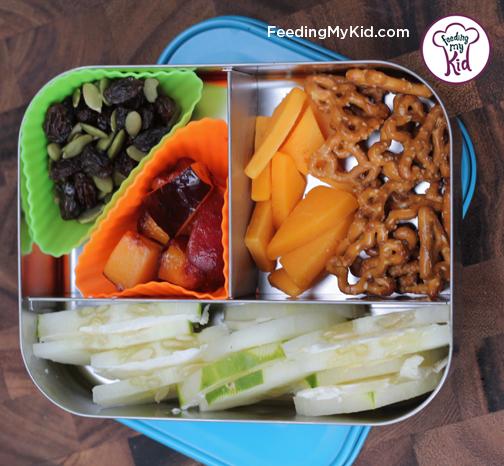 These are a really fun and simple bread free/gluten free sandwich option.
Slice up some cucumbers, then top with cream cheese
To add bulk to this lunch, we paired it with some cheese triangles, pretzels, raisins and pumpkins seeds and a plum, peach mix.
Nut Butter and Jelly Pinwheels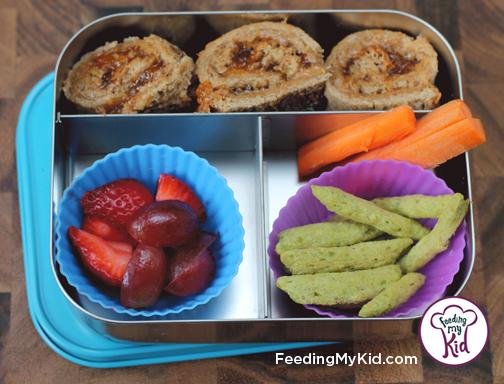 This isn't your traditional pb&j! For this recipe, we used almond butter and apricot preserves, but feel free to get creative; peanut butter, sunflower seed butter, cashew butter and soy butter are all great options. For jellies, try strawberry, grape, apple, peach, raspberry, cherry or blueberry!
Using a rolling pin, flatten out 1-2 slices whole grain bread.
Spread with almond butter and apricot preserves, roll and slice!
For this sandwich, we served it with a grape/strawberry mix, some carrot sticks and snap pea crisps.
Ham and Cheese Crescents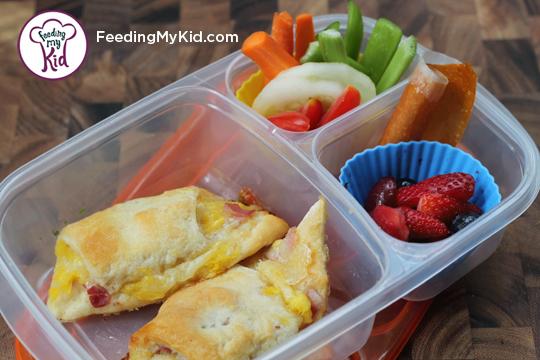 These crescents take a little prep, but are sure to be a crowd pleaser. Ham and pineapple make for the perfect balance and kids will love the gooey cheese and flaky crust.
Using pre-made crescent rolls, lay them out on a baking sheet lined with parchment paper
Top each crescent with shredded cheddar, crushed pineapple, and diced ham
Roll crescents up and bake for 10-12 mins at 375 F
To crush the pineapple, we just cut a pineapple and used our mini-food processor or you can used canned without any added sugar.
To finish these off, we paired them with a fresh veggie melody and some mixed berries and grapes.
Recipe adapted from Que Rica Vida's Hawaiian Puffwheels
Dippers
Parmesan Zucchini Fry Dippers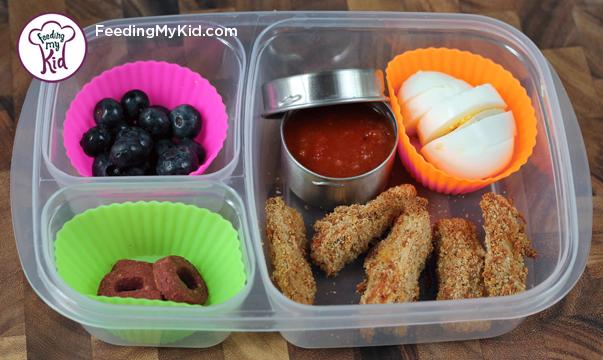 Ask any kid what their favorite foods are, and more times than not, "french fries" will be at the top of their list.
These parmesan zucchini fries are a great way to satisfy their fry desires while sneaking some veggies into their lunch.
Using bread crumbs, parmesan and italian spices, make a dry mix.
Cut zucchini into fry shapes, coat in flour, then coat in egg, to finish it off by coating it in the dry mix.
Bake on parchment lined sheet at 425 F for 20-22 mins.
You can use this same recipe and replace the zucchini with carrots, sweet potatoes, parsnips, and/or green beans. Mix it up and have fun.
For the dip, we used some marinara sauce, and top this dish off with a hard boiled egg, blueberries, and some chocolate beet cookies.
Recipe adapted from Damn Delicious Baked Zucchini Fries
 Grilled Cheese and Veggie Dippers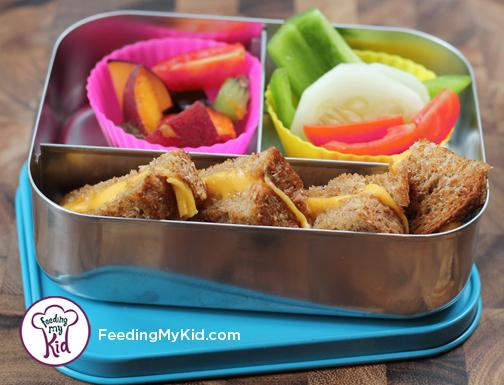 A basic grilled cheese and veggie assortment get a super fun face lift when cut into strips for dipping in tomato soup! (not pictured)
Add your soup of choice to one of our many top recommended thermoses.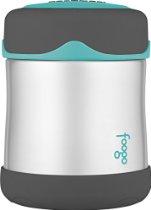 Veggie and Fruit Dipper Box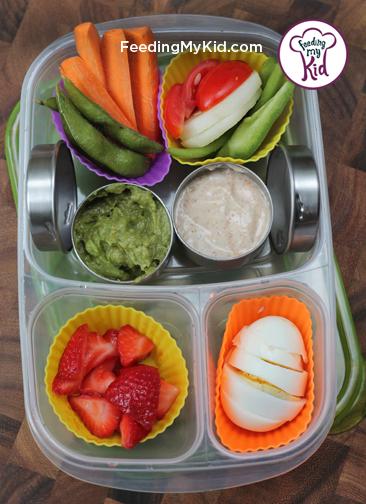 This is the ultimate kid dipper lunch box! We used:
Guacamole
Plain yogurt (2/3) mixed with almond butter (1/3)
Paired up with various veggies cut into strips, some fresh fruit and a hard boiled egg, your kids will go dipper crazy!
Meatball Dippers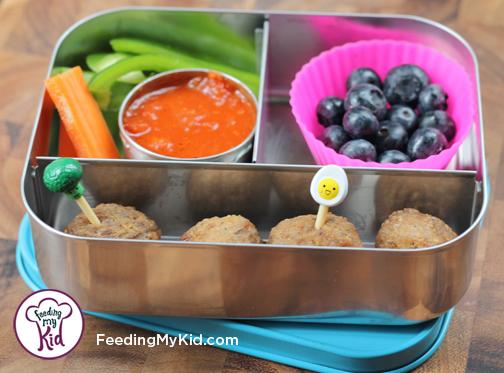 How cute are these?!
Fresh or frozen meatballs of your choice (beef, turkey, veggie).
Cut up carrots and sweet bell pepper.
Marinara sauce for dipping.
Add some cute bento box toothpicks, some blueberries on the side, and you are all set!
Dipper Jars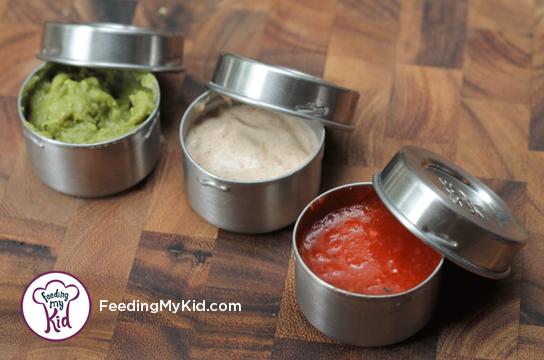 While not a full lunch, these awesome dips will get even the pickiest eaters to love their fruits and veggies. Here we features a simply guacamole, a yogurt and almond butter mix, and a marinara sauce. Check out our article with tons of dip ideas to include in your kid's lunch! Plus, bookmark our complimentary articles on veggies, proteins and carbs to use as dippers to keep your child's lunch new and exciting. These leak proof containers are pricy, but we think well worth it because of the hours of clean up time it will save you.
Pasta/Rice Dishes
Fried Rice Lettuce Wraps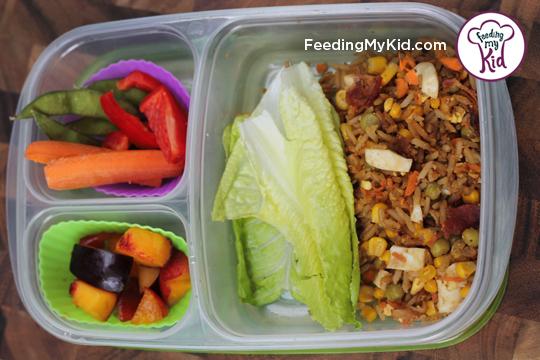 This is a great way to re-purpose last night leftover rice.
Heat up 1/2 – 1 cup cooked brown rice in a pan.
Add 1 hard boiled egg, chopped.
Mix in a combo of  peas, corn, shredded and carrots and edamame.
Top with some crumbled bacon.
Use a few splashes of soy sauce and mix until warm.
Serve this up with some lettuce and let your kids make their own wraps. Paired it with some red pepper, edamame and carrots, which can be eaten alone or added to the wrap. Cut up nectarines or another fruit to round out the meal.
Garden Veggie Pasta Salad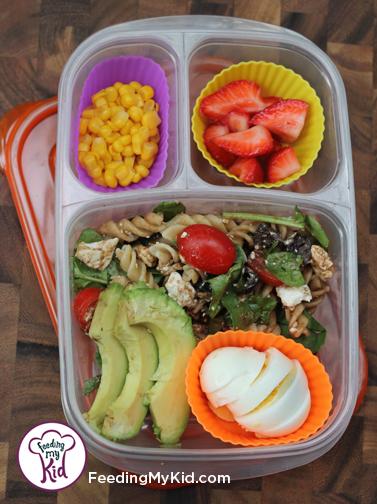 This is a classic recipe that my mom would make for us when we were growing up. It's so simple and a great way to pack in some greens. It is best served cold or at room temperature.
1/2 cup fusilli pasta, cooked
Mix in 1/2 cup chopped spinach, chopped grape tomatoes, sliced back olives and red onion (optional).
Top with crumbled feta cheese or another cheese of choice.
Drizzle with some balsamic vinegar or other desired dressing.
To add some more protein, served this up with an egg and some avocado. Corn and stawberries round out the lunch.
Zucchini Noodles and Grilled Cheese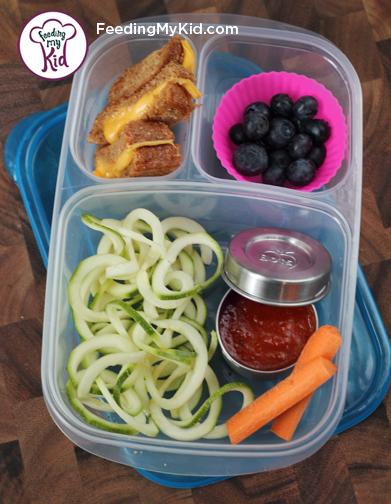 I've recently become obsessed with my spiralizer. These zucchini noodles are super easy to make and an amazing alternative to traditional spaghetti.
Paired with grilled cheese sticks and some carrots dipped into marinara sauce is a fun lunch with a healthy twist.
Creamy Ham and Pea Pasta Salad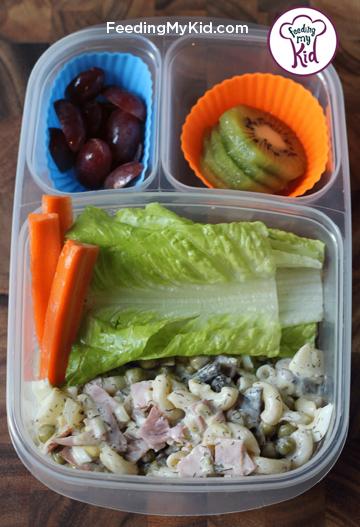 This recipe is a great way to use up leftover pasta. Since this is a creamy based dish, your kids won't even realize it is full of good for them food, like peas and mushrooms.
We adapted the recipe from Creamy Peas and Ham Pasta Salad. Instead of adding raw mushrooms and onions, we sautéed them until the onions were translucent. Yum.
Teriyaki Chicken and Turkey Cucumber Sushi Rolls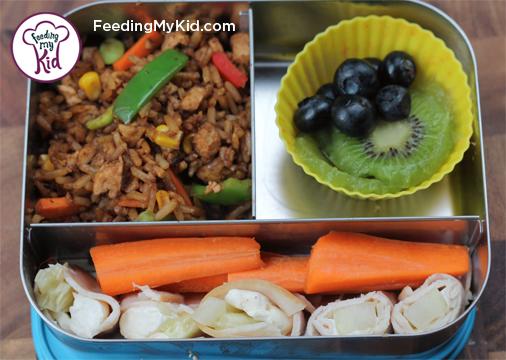 Chinese takeout is always a favorite. This make at home version is a super fun way to spice up your kids lunch box!
Teriyaki Chicken and Rice:
1/2 cup cooked brown rice.
Cooked diced chicken.
Edamame, carrots, green and red peppers, corn.
Combine all ingredients in a pan, add some teriyaki sauce and heat until warm.
Served it up with some turkey cucumber sushi rolls.
Lay out 1-2 slices of medium sliced turkey
Spread a layer of cream cheese in a straight line at the top of the slice.
Lay your cucumber slices next to the cream cheese instead the turkey slice.
Roll up the turkey and slice.
Build Your Own Lunch Kits
Make Your Own Taco Bar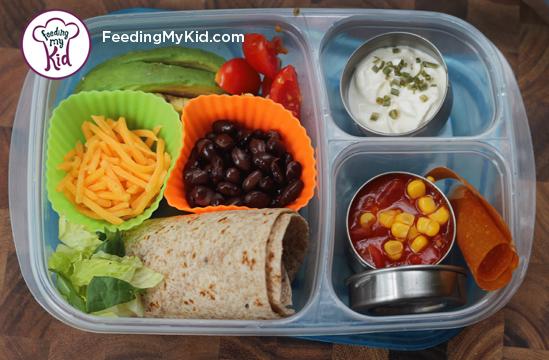 These are perfect for a Taco Tuesday lunch!
Cut tortillas in half.
Serve with black beans, cheese, lettuce, tomatoes, salsa and sour cream.
Let kids go crazy!
Yogurt Parfait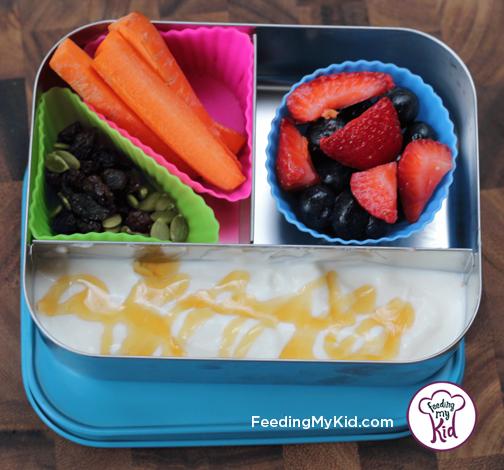 A great "brunch" idea that kids will love… Just make sure to pack an ice pack to keep the yogurt cold.
Plain or vanilla greek yogurt -drizzled with honey or agave.
Variety of mixed berries, seeds, dried fruit and/or granola.
Kids get to mix all the topping into the yogurt!
To even out the sweetness, we chose carrot sticks as a side.
Build Your Own Baked Potato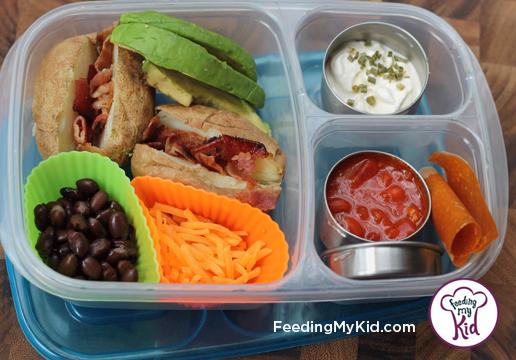 These are so fun and will keep kids full all day!
2 mini baked potato-sliced open
Toppings!- bacon, black beans, cheese, avocado, salsa, sour cream.
We paired this up with some homemade fruit leather for a fun sweet treat.
Ants on a Log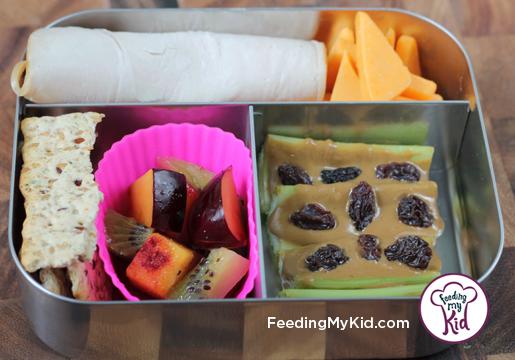 This kid favorite is an awesome way to get kids to eat celery and not even know 😉 Change up the filling and used almond butter, sunflower seed butter, or even cream cheese. You can also substitute the raisins for died cranbwrries, dried apple, or dried mango. Have fun!
1-2 celery stalks, cut into 2-3 inch pieces.
Spread nut butter on celery and top with "ants" (raisins).
We served this lunch with a turkey slices, cheese cubes, crackers and a stone fruit and kiwi salad.
Tuna Patty Lettuce Wrap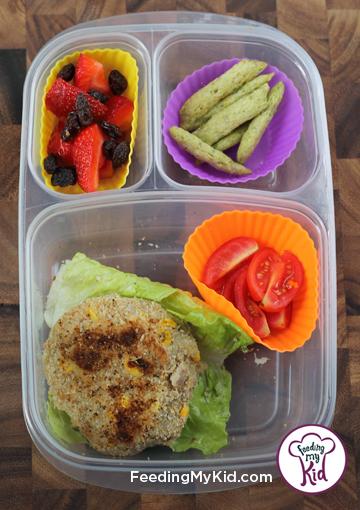 This tuna patty can be eaten as a burger or on its own. Pictured, we paired it with some lettuce to make a bun-less burger.
Recipe for tuna patties:
Canned tuna-water packed
Corn
Onion
Dill
Parsley
Lemon juice
Onion and garlic powder
Egg
Combine all ingredients, form patties and cook in a oiled skillet until brown.
Recipe adapted from The Gracious Pantry Clean Eating Tuna Patties
Here is a fun and creative way to write your notes in your child's lunch!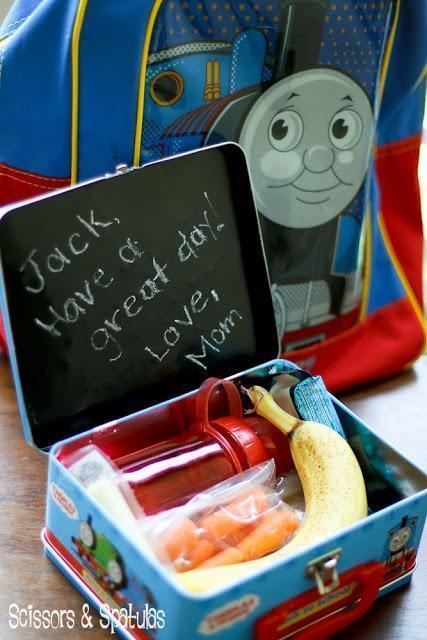 Check out the instructions here on how to make a chalkboard lunch box.
You can purchase the chalkboard paint and throw-back lunch boxes through our Amazon.
We found this book The Best Homemade Kids' Lunches on the Planet by Laura Fuentes to be full of great lunch time ideas. It features over 200 lunch creative and healthy foods. This book and so many other kid cookbooks can purchased from our Amazon store.
The information on this website is designed for educational and/or entertainment purposes only. The information provided is not intended to be a substitute for informed medical advice or care. Please consult a doctor with any questions or concerns regarding your child's condition. You should not use this information to diagnose or treat any health problems or illnesses.