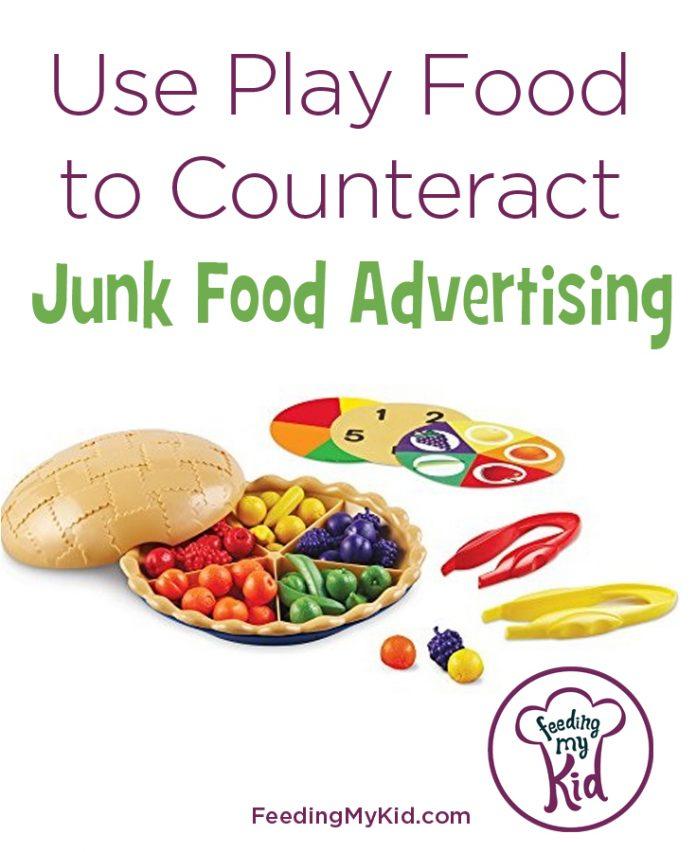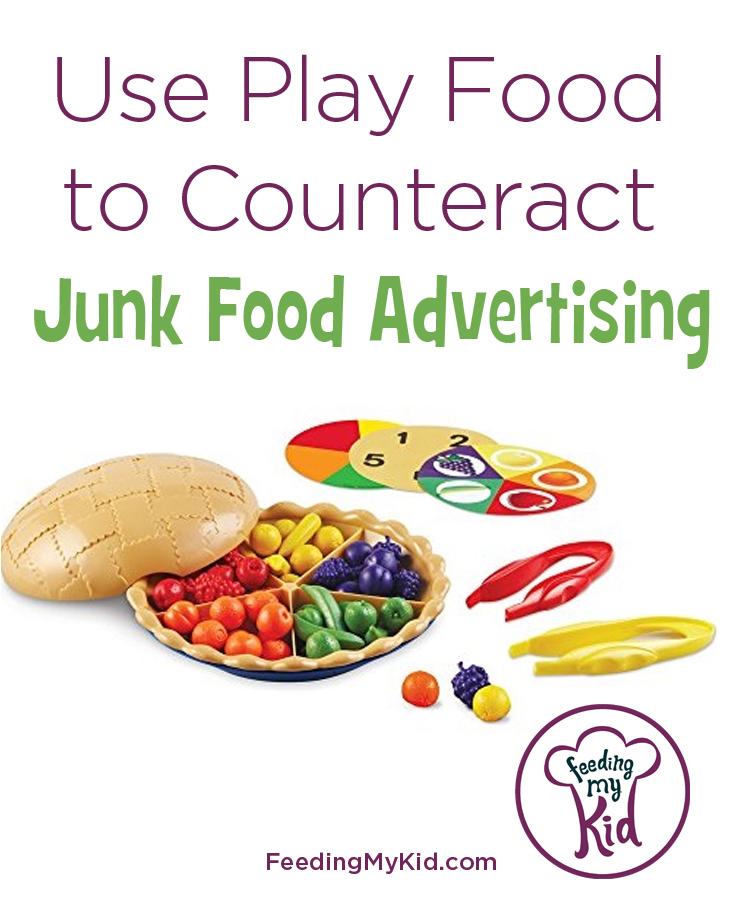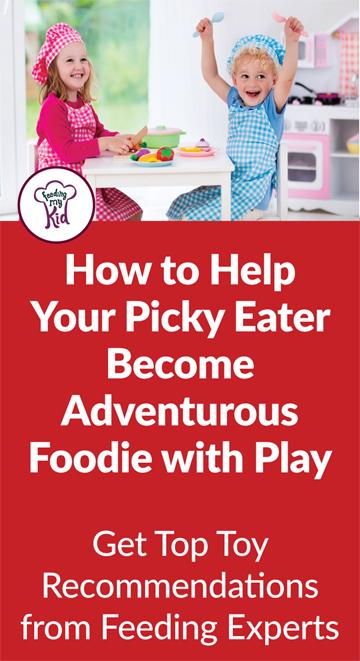 Kids these days are being assaulted with junk food advertising through TV commercials and mobile advertising through apps.
Up until the age of six, children cannot tell the difference between TV programming and advertising.
Children start to show product preference from as little as a single commercial exposure and would only strengthen from repeat exposures. (1)
Right now, junk food has these super cute mascots and movie themed-licensed food deals like Minions on Fruit Gushers or Oreos; Shrek on M&Ms, Snickers, Skittles and even Twinkies.
How Can Zucchini or Broccoli Compete?
How can parents help their child learn to eat healthy when food manufacturers spend millions of dollars in advertising promoting unhealthy products?
Here are some tips to try at home to help your kids develop a healthy relationship with food: 
Limiting how many TV commercials your children watch. Buy DVDs or rent movies and shows from Netflix- commercial free
Shop the perimeter of the grocery store and skipping the snack aisle altogether
Grow a garden with your child
Set up food sensory play activities
Play with food from real food to toy food (see toy food recommendations below)
Find Toy Recommendations Below! 
Have Your Kids Play with Food
Studies show that kids who play with food have less of a chance of developing food phobias later on.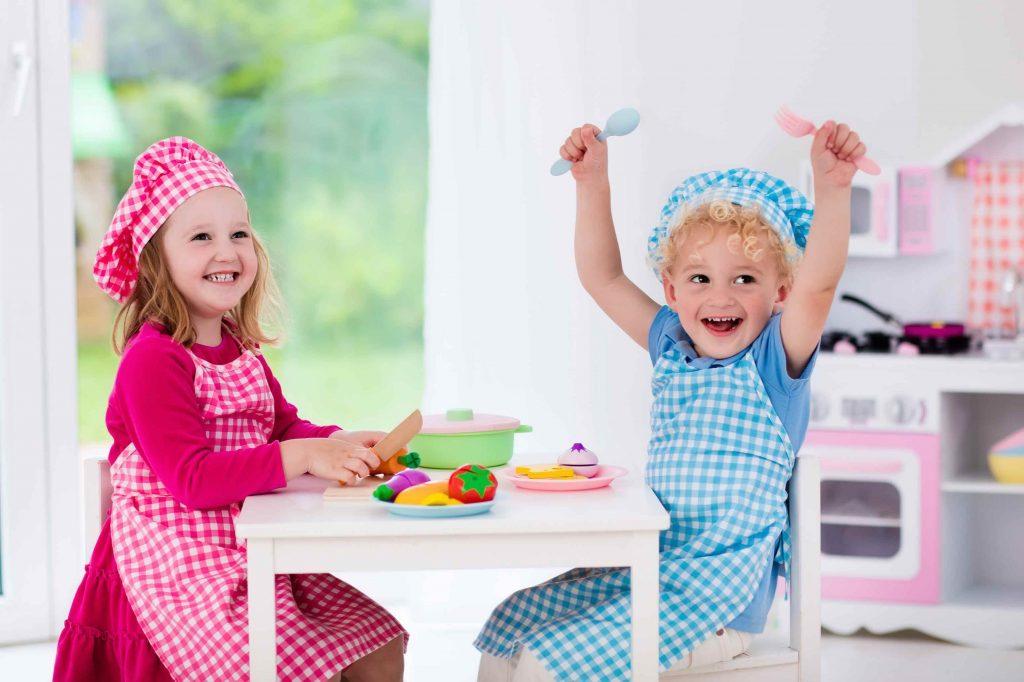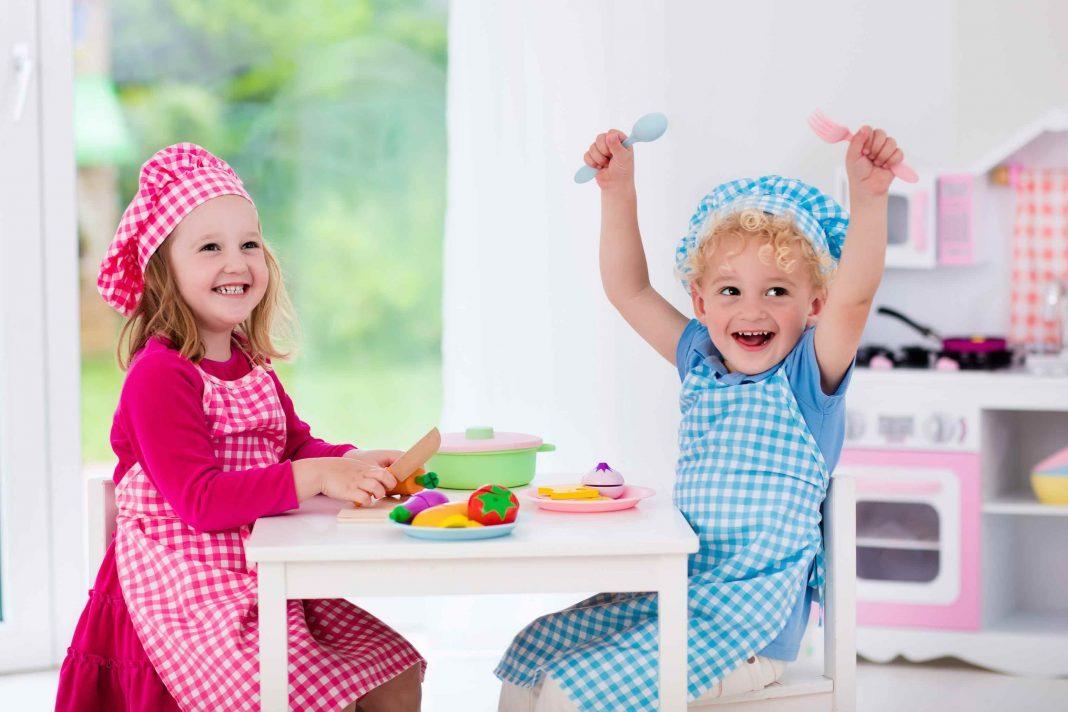 Have you kids play with toy food. Below, we provide a number of high-quality toy food options to help your child become familiar with a variety of fruits and vegetables.
Play is one of the best ways to help children learn. Here are just some of the ways to engage your child in play. You can sort toy fruits and vegetables by color, size, type, count them, etc.
You can pretend to cook the food, play grocery store, roll them around in a grocery chart and pretend to grow them in your garden.
Tip. Don't buy toy junk food. Kids get enough exposures to junk food all around them; don't add to it by allowing toy junk food in the home.
Sensory play is so important.
 Happy Playing!
 Farmers Market Color Sorting Set
This set not only comes with a huge variety of fruits and veggies, but helps kids learning about colors and sorting.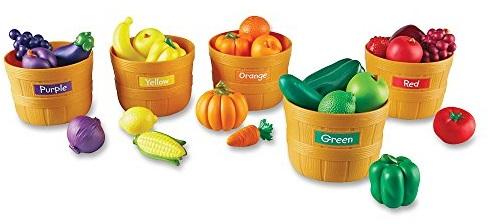 Get the Farmers Market Color Sorting Set on Amazon for $29.80
Super Sorter Pie
This awesome pie helps kids with colors, sorting, counting and fruit recognition.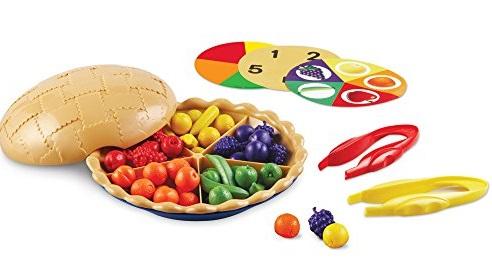 Get the Super Sorter Pie  on Amazon for $17.99
  Food Groups Set
Use this kit to teach young children about the basic food groups!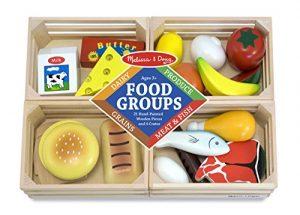 Get the Food Groups Set on Amazon for $15.99
Peel and Play Set
This super cool set lets kids prepare their veggies for cooking by peeling and cutting them.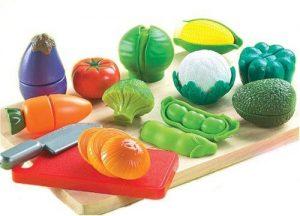 Get the Peel and Play Set on Amazon $19.50
  Fresh Fruit Salad Set
An awesome set to get kids excited about preparing and eating more fruit!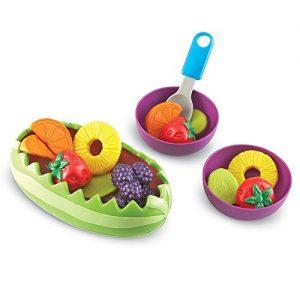 Get the Fresh Fruit Salad Set on Amazon for $20.87
 Garden Fresh Salad Set
A great set to introduce salad and get kids comfortable with vegetables.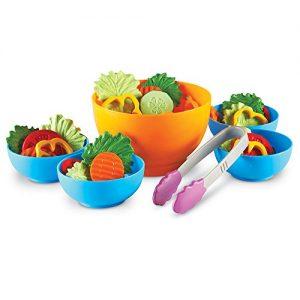 Get the Garden Fresh Salad Set on Amazon for $24.54
 Healthy Breakfast Set
This set includes everything needed to teach kids about preparing fun, healthy breakfasts!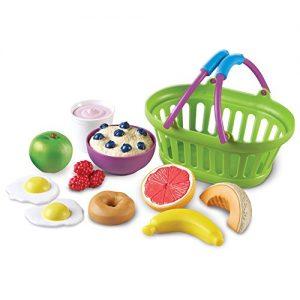 Get the Healthy Breakfast Set on Amazon for $13.99
 Lunch Basket Set
A fun way for kids to serve each other lunch while playing school!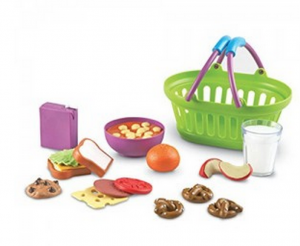 Get the Lunch Basket Set on Amazon for $14.99
 Healthy Dinner Basket
Includes everything for your child to make fun healthy dinners, complete with side dishes.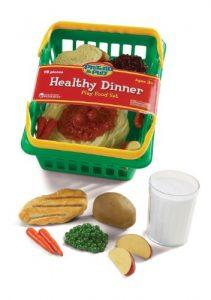 Get the Healthy Dinner Basket on Amazon for $14.99
Grill It! Set
For all the young grill masters out there!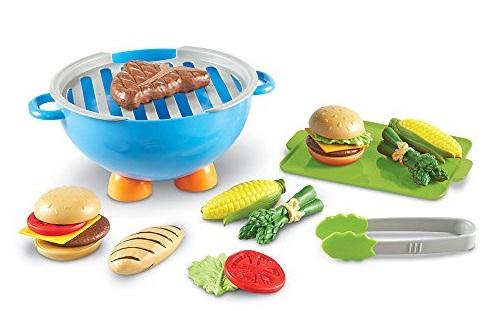 Get the Grill It! Set on Amazon for $26.08
Soup's On! Set
Kids will love to cook up a batch of fresh homemade soup with this set!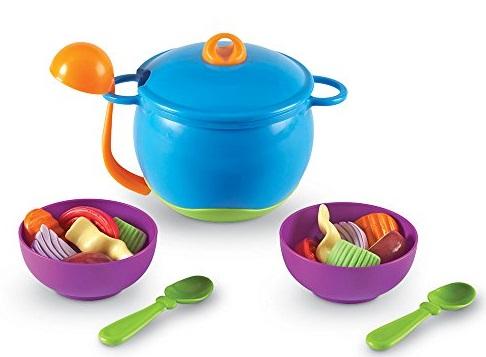 Get the Soup's On! Set on Amazon for $21.16
 Farmers Stand Set
Hours of Shopping Fun!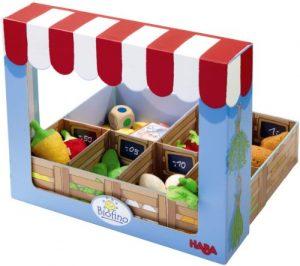 Get the Farmers Stand on Amazon for $18.54
Shopping Cart
A perfect child sized cart to fill with all their favorite fruits and veggies.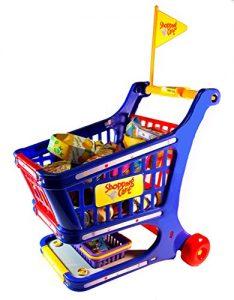 Get  the Shopping Cart on Amazon for $31.99
Cash Register
This cash register makes a great addition to any play store or restaurant!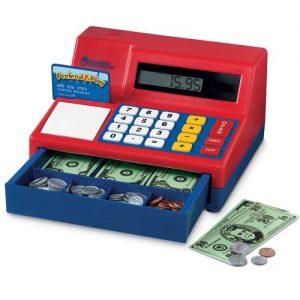 Get the Cash Register on Amazon for $27.99
Children's Garden Tool Set
Help your children learn the basics of growing their own food with this educational set.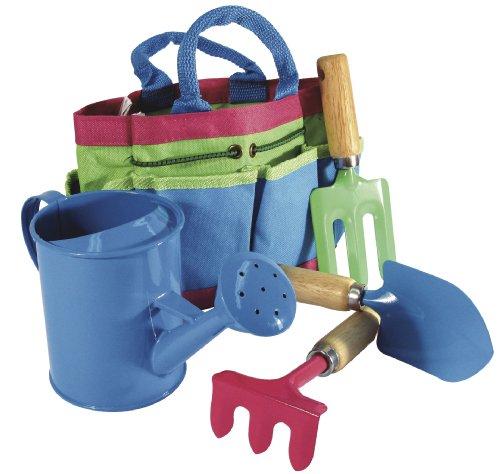 Get the Children's Gardening Tool Set on Amazon for $16.42
  Bushel of Fruit
Perfect beginner set of fruit. Helps to build vocabulary and engage in dynamic play.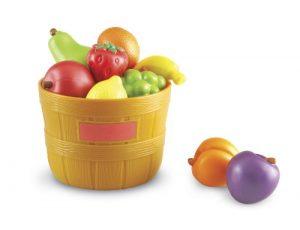 Get the Bushel of Fruit on Amazon for $9.57
  Vegetables Playset
Great starter vegetable set. Food is life sized and perfect for learning the names of vegetables.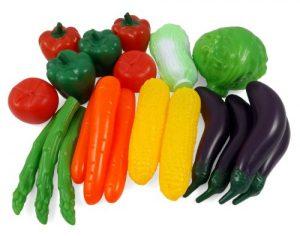 Get the Life Sized Bag of Vegetables on Amazon for $9.95
 Fresh Picked Fruit and Veggie Tote
A great fruit and veggie mix with a fun shopping tote.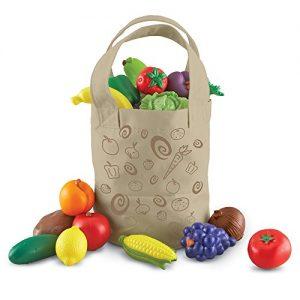 Get the Fresh Picked Fruit and Veggie Tote on Amazon for $19.98
 Deluxe Market Set
This set includes a fun mix of produce as well as items like meat, sandwiches, and snack options!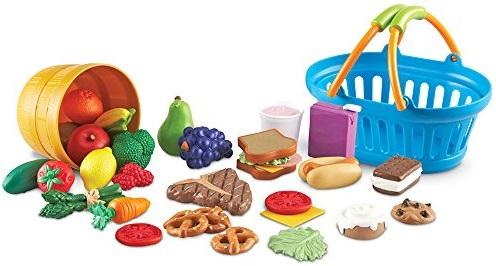 Get the Deluxe Market Set on Amazon for $30
  Pita Pocket Play Set
How Fun! A great addition to any play food collection.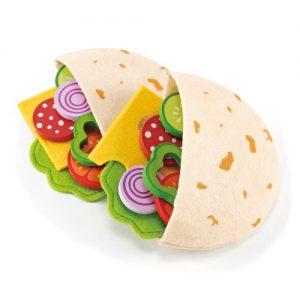 Get the Pita Pocket Play Set on Amazon for $11.11

Sources:
1.) "The Impact of Food Advertising on Childhood Obesity."Http://www.apa.org. American Psychological Association, 2015. Web
This post contains affiliate links through Amazon. If you purchase a product through this link, your cost will be the same, but I will receive a small commission to help with operating costs of this blog. Thanks for your support! We have hand curated all of our products to make selecting the right products for your family easier.