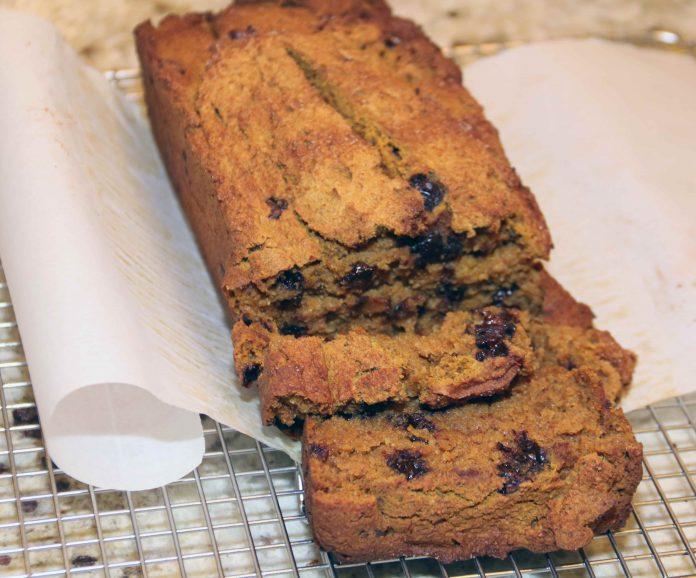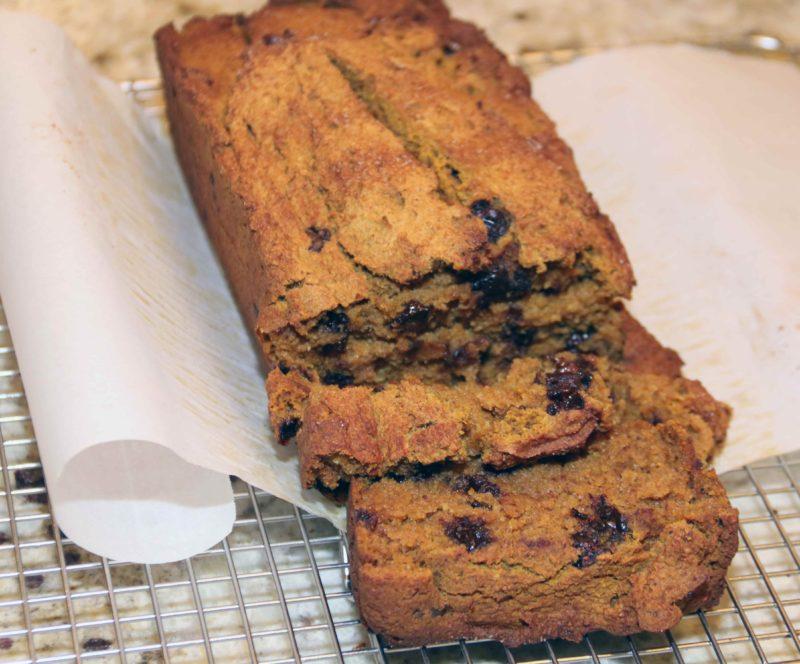 Nutritious Pumpkin Bread
It's hard to think a pumpkin bread can be nutritious! But, I've done it. I've made an incredibly delicious pumpkin bread that also is full of extra nutrients.
Don't get me wrong. This is still considered a treat and should be eaten in moderation, but at least when you're eating this pumpkin bread, you shouldn't feel guilty!
My twins devoured it! And, I actually felt good about it.
It Starts With Using More Nutritious Ingredients
I've been making pumpkin bread for years. I used to always make it with all-purpose flour and tons of sugar. I've now using alternative flours that are more nutritious and I've kicked out the added sugar by using some dates and a banana.
Sweetened with Fruit
I was worried if I used a banana that this recipe would taste like banana bread. The pumpkin, nutmeg, and cinnamon do a great job masking the banana flavor. I also soaked some dates in water and pureed them to add to the recipe. All of this together made for an incredibly delicious bread. I used the sweetness from fruits, which has fiber and other nutrients, instead of adding sugar to the pumpkin bread. It's an extra step, but so worth it!
Amaranth Flour
Amaranth flour is considered a high-quality protein, has high levels of amino acid lysine, more calcium than milk per oz, rich in fatty acids, Vitamin A, C & E, potassium, and phosphorus. Wow! Why am I not eating more of it?
It's hard to use amaranth as a 100% substitution for your flour, but you can definitely use it as a substitute for some of your flour in a recipe. Add the arrowroot to help with rising, since Amaranth flour doesn't have any gluten, it doesn't rise like regular flour does. Check out this article to learn more about amaranth flour.
In this recipe, I used amaranth flour, coconut flour, arrowroot starch, and whole wheat flour.
Learn more about why you should be using arrowroot powder or start instead of cornstarch.
Don't be afraid to experiment with different flours!
Cacao Chips
The chocolate chips I used still have sugar in them, so I am not claiming this is a sugar-free dessert. I haven't made this with 100% Cacao chips, yet, but it's on the list. I'll let you know how it turns out. For this pumpkin bread recipe, I used 45% cacao chips, but I think you can use 65% too, especially if you are fond of dark chocolate.
I try to stay away from chocolate chips, which are made from cocoa. Cacao is more nutritious!
Pumpkin
Pumpkin is a great source of dietary fiber, it can boost your vision, help lower or maintain blood pressure and has heart-healthy benefits too.
This recipe has a whopping two cups of pumpkin puree in it.
It's Fall ya'll. If you're going to enjoy the flavors of Fall, might as well try to make them healthier! Drop us a line and let us know how you liked this recipe!
Better yet, send us a picture with the hashtag #FeedingMyKid.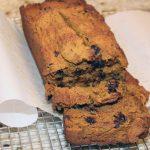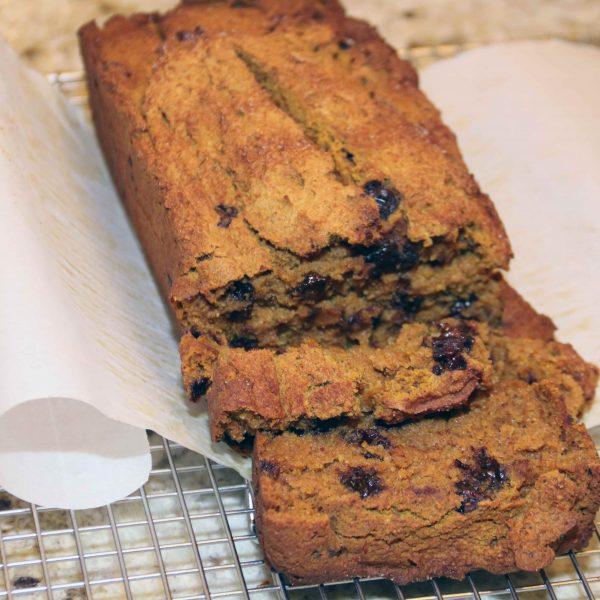 Pumpkin Bread
This is a must try recipe! Especially perfect in the Fall.
Ingredients
1.5

cup

whole wheat flour

1

cup

amaranth flour

1

cup

coconut flour

1/2

cup

arrowroot starch

1

cup

coconut oil

2

teaspoons

baking soda

3

teaspoons

cinnamon

1 1/2

teaspoons

nutmeg

1 1/2

teaspoons

salt

5

Eggs

1

Banana

7

dates

soaked for 10-15 minutes

1/4

cup

Water

from soaked dates

2

cups

plain pumpkin puree

not 'pumpkin pie'

1

cup

chocolate chips

I used 45% Cacao chips
Instructions
Preheat oven to 350 degrees.

Grease and flour 2 loaf pans. Set aside.

Mix dry ingredients together in a medium bowl.

In a large bowl, mix wet ingredients.

Add the dry ingredients to the wet ingredients 1/3 at a time, mixing in between each addition.

Stir batter until fully incorporated.

Fill pans 3/4 of the way full leaving space for loaves to rise.

Bake large loaves for 120 minutes and smaller loaves for 55-65 minutes, depending on your oven. Maybe 10 minutes before it's ready, start testing it.

Remove loaves from oven. Let cool for 5-10 minutes on a cooling rack.
Recipe Notes
I'm sure you can make this whole loaf with whole wheat flour and if you're in a pinch, all-purpose flour will do. If you can, pump up the nutritional value of your food with the alternative flours mentioned.