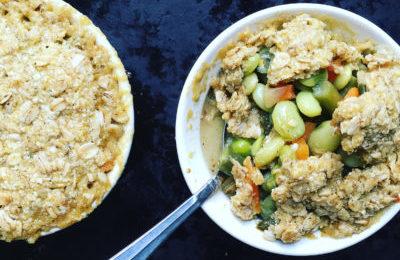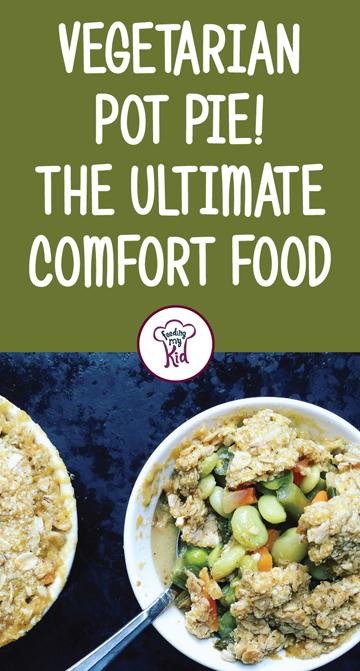 Back to school isn't just plain crazy; it's crazy emotional, stressful, exciting and above all else, crazy busy. What's more comforting than a vegetarian pot pie?
Scrolling through social media, all you seem to see lately are pictures of kids posing for their first day of school.
As a mom, I feel the rush of emotions. As a chef, my mind starts racing with ideas, menus; and I'm overwhelmed with ideas of what I can feed my kids for lunch, snacks, second snacks, third snacks and so on – all while keeping it simple and healthy.
That's why I wanted to share a crazy easy recipe that you can turn to during those last few days of summer when cooking is the last thing you want to worry about.
Vegetarian Pot Pie Packed With Nutrients!
This simple, veggie-filled, clean-out-the-freezer vegetarian pot pie has all the comforts of a chicken pot pie but filled with veggies. The crumble crust is a delicious twist on the classic and it's gluten-free, too!
Hopefully, this vegetarian pot pie adds a little less craziness to your back-to-school routine. It was a huge hit with my family (hubby included!) and has gotten rave reviews from my Dabbling Chef fans, too. Enjoy!
Check Out Andrea's Other Delicious Recipes: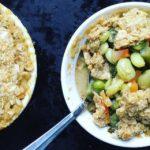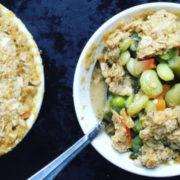 Veggie Pot Pie With Gluten-free Crumble Crust
This simple, veggie-filled pot pie has all the comforts of chicken pot pie. The crumble crust is a delicious twist on the classic.
Course:
Dinner, Lunch, Main Dish
Cuisine:
American, Vegetable
Ingredients
Veggie Pot Pie
1

tbsp

olive oil

(or coconut oil)

1

large

yellow onion

(Or Vidalia onion, diced)

2

cloves

garlic

minced

3

cups

Vegetable broth or stock

2

cups

Mixed frozen vegetables

(corn, peas and carrots work well)

1

cup

Frozen beans of choice

(I used frozen lima beans, but green beans or edamame also work)

1/4

cup

Non-dairy milk

(almond, cashew, or coconut milk, but only tested with almond)

1/4

cup

Gluten-free all-purpose flour

(I used Bob's Red Mill brand)

2

Nutrition Tips

1/2

tsp

bay leaves

1/2

tsp

Garlic Powder

1/4

tsp

Dried thyme

pinch

Salt and freshly ground pepper, to taste
Gluten-free Crumble Crust
1

cup

rolled oats

6

tbsp

almond meal

3

tbsp

Nutritional Yeast

1/4

tsp

Garlic Powder

1

pinch

Lunches

1

pinch

Making Food Fun

Salt and freshly ground pepper, to taste

coconut oil

(to combine)
Instructions
Veggie Pot Pie Filling
Preheat oven to 350º F

In a large stock pot over medium heat, add the olive oil followed by the onions and garlic. Cook until translucent, about 5-7 minutes.

Add the broth, followed by the veggies, beans and non-dairy milk; stir to combine.

In a small bowl, whisk together the flour with about 1 cup of warm broth until no clumps remain.

Slowly pour into the pot, stirring constantly.

Add bay leaves, spices, salt and pepper and bring to a boil.

Taste and adjust seasonings.
Making the Crust
In a medium bowl, mix together oats, almond meal, nutritional yeast, spices, and salt and pepper.

Add coconut oil, 1 teaspoonful at a time, breaking it up with your hands, until the mixture sticks together enough to form a dough.

If serving family style, transfer veggie filling to a casserole dish and crumble pieces of topping all over top. Bake for 20-30 minutes until filling is bubbly and crumble is set.

If using individual ramekins, transfer filling to each ramekin, place a palm-sized, flattened dollop of topping on each ramekin, allowing room on the edges for steam to escape, and bake for 20-30 minutes, until topping is browned and set.
Recipe Notes
Equipment: Large stock pot, medium bowl, individual ramekins or casserole dish. Notes: If you'd like to add diced chicken breast to the recipe, simply season it with salt and pepper and brown it in a bit of olive oil or coconut oil in the same stock pot you'll use to make the filling; once browned, remove the chicken from the pot, set aside, continue with the recipe below, and add the chicken back to the pot before transferring the filling to the casserole dish to bake.