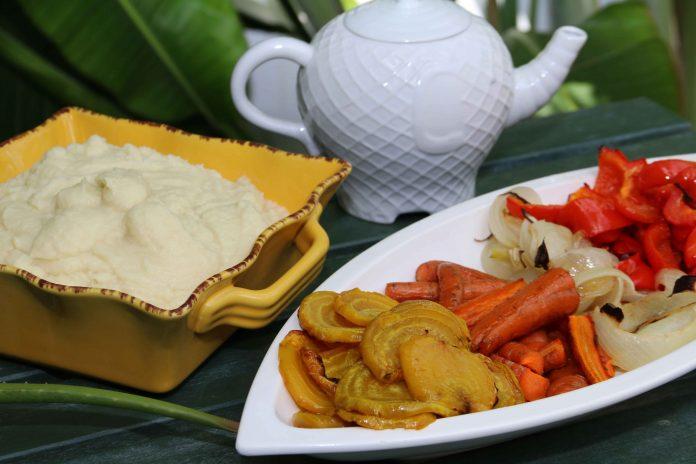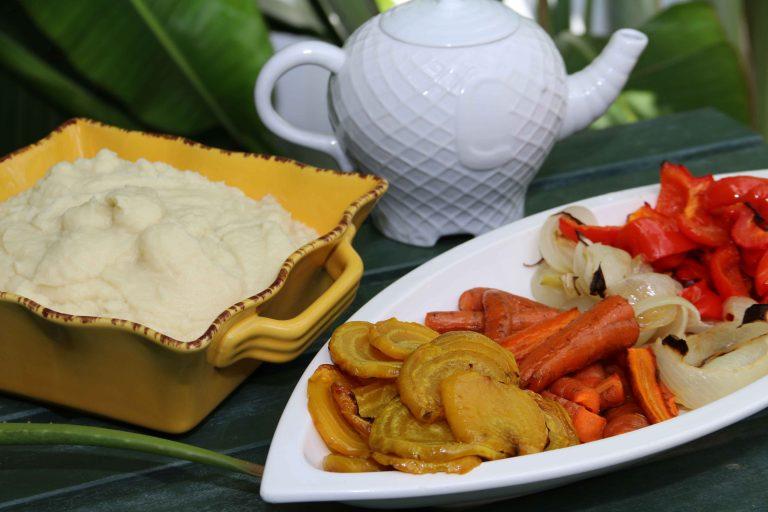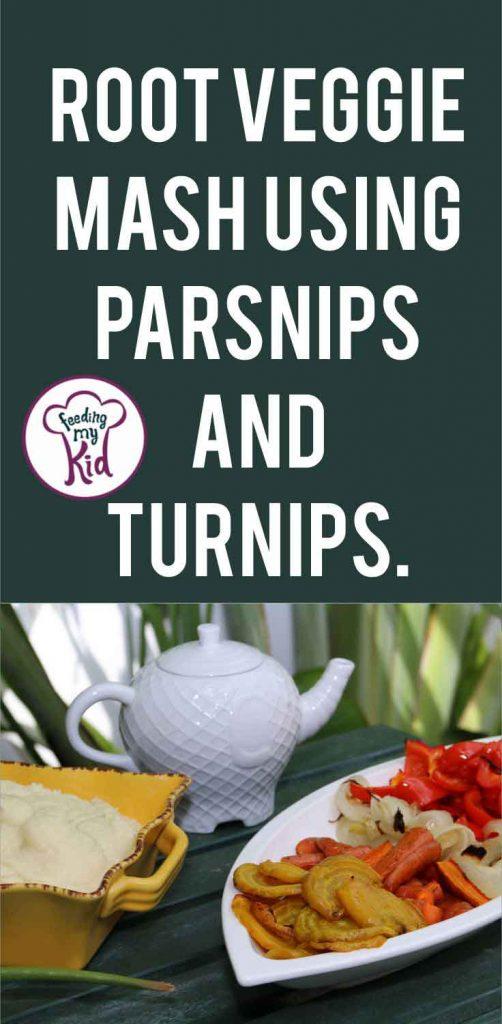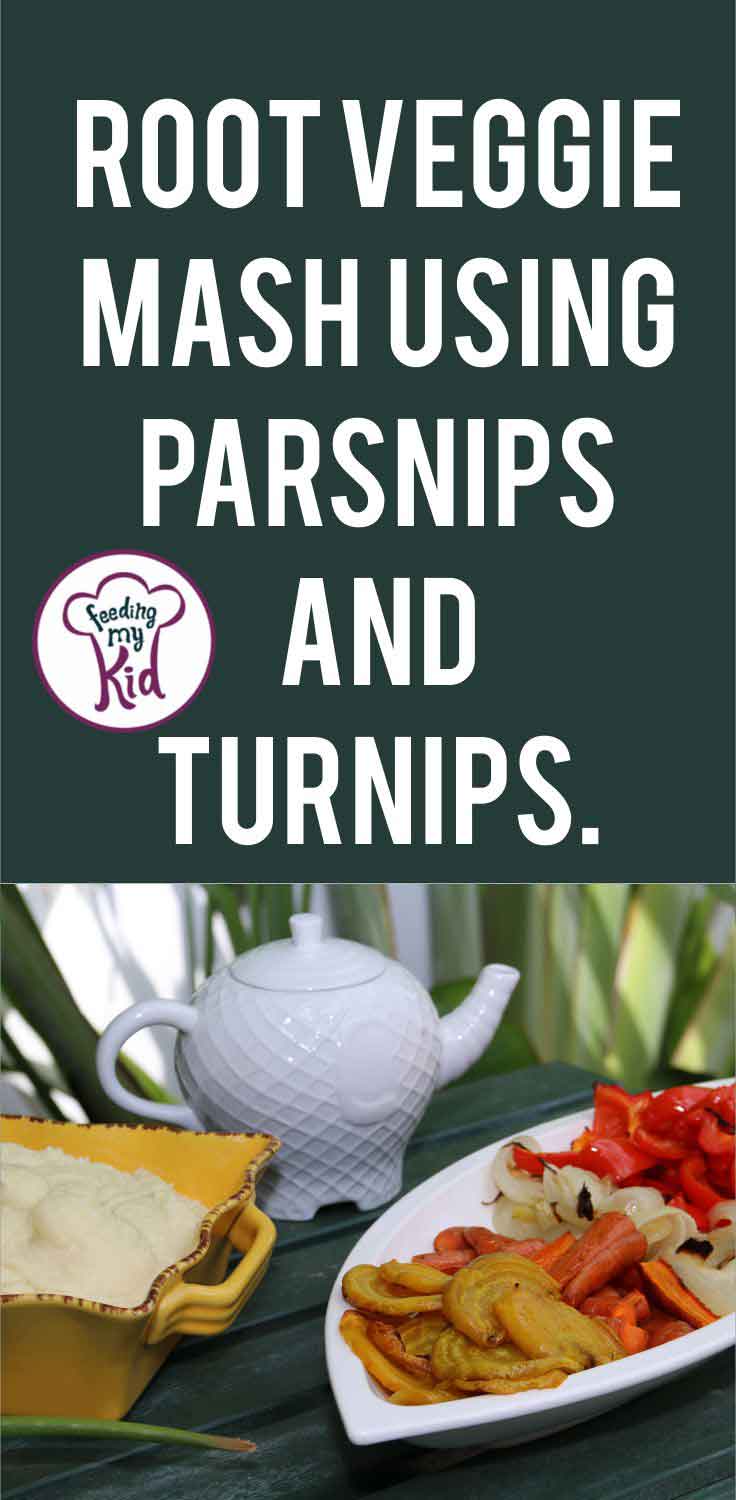 Mashed potatoes are out – root veggie mash is in! This is a great way to expose your kids to new veggie flavors and it's such a simple recipe, too!
Root Veggie Mash with Parsnips and Turnips
For this mash, I used parsnips and turnips! I've heard tons of great things about cauliflower mash but wasn't a huge fan of the consistency.
I decided I would try the same method with this root veggie mash by using turnips and parsnips because they have tons of vitamins and minerals in them.
You can try this method with any veggie, too! Use any veggie or root to make a mash. What a great way to use up all the veggies in your veggie drawer.
Healthier than Potatoes
A plus about this recipe is that not only is it lower in fat than heavy mashed potatoes, it's also lower in carbs and starch. While potatoes are a great veggie, they are not always the most nutrient dense option. This root veggie mash has it all — flavors, vitamins, and minerals!
More Yummy Sides: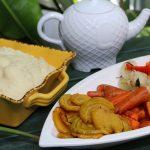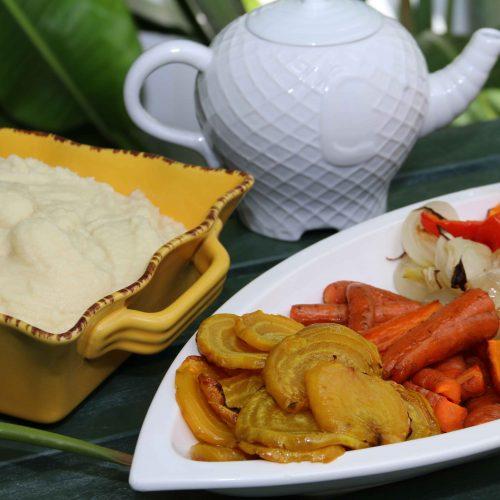 Root Veggie Mash
This root veggie mash is the perfect way to use up veggies. Expose your kids to new flavors instead of the same old potatoes.
Course:
Dinner, Side Dish
Ingredients
1

lb

parsnips, peeled and cubed

1

lb

turnips, peeled and cubed

1/2

cup

chicken stock

1/4

cup

ghee, butter or olive oil

1

tsp

salt, or to taste

black pepper, to taste

parsley, for garnish
Instructions
Boil the parsnips and turnips in a large pot for about 10-12 minutes. At 10 minutes, check with a fork and see that it goes right through.

Drain and place in a food processor (or heavy duty blender.) You can also do this with a hand blender if you mash the veggies with a fork first.

Add the chicken stock a little at a time. Add the ghee or olive oil, salt, pepper and puree until it' smooth and resembles mashed potatoes. Add more or less chicken stock depending on how thick you want your mashed veggies to be.

Enjoy! Serve with the parsley and a little more freshly ground black pepper.